9 Best Joomla Contact Form Extensions (Reviewed and Compared)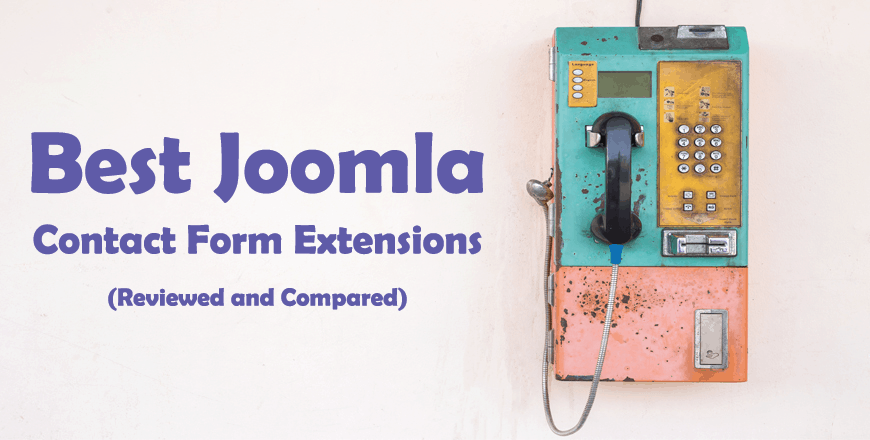 ​ Hurray!! Your new Joomla website is completed, and it's looking extra beautiful. You've got all set, About Us page, your logo, a customized blog, yo...
​Hurray!! Your new Joomla website is completed, and it's looking extra beautiful. You've got all set, About Us page, your logo, a customized blog, your site's menu, and even an e-commerce store. Everything is looking perfect and works well, and you're excited to get started right? Calm down, don't you think you're forgetting something vital to a website? That's right!! The contact form.
The Joomla contact form is a vital part of the website, some developers ensure to add it at the initial stage of development to ensure it's not forgotten because of being carried away with other tasks for the website. Truth be told, it's a shame not to find a contact form on an already finished website; how would you explain that to your customers? Most times people don't really fancy the idea of calling your support lines or sitting idle in your live chat module just to tell you an issue; also most people love to have email thread of their conversations which all points the importance of a contact form for your website.
Its importance can't be underestimated, and that's the reason for the existence of Joomla contact form plugins. These plugins are crucial because aside from aiding customers send you an email without wasting time, your website which you've integrated the Joomla contact form plugin can field your messages in a timely fashion. Also, these contact forms fight spams for you ensuring you expand your interactions efficiently with your customers. An example of this is the conditional logic that updates your website contact form in regards to a user's reply.
Features of Excellent Joomla Contact Form Plugins
​Every Joomla contact form module must have on its basics some fields and minimal design attributes. These features are set up to ensure your customers stay in contact with you. However, excellently advanced Joomla contact forms support design tools, conditional logic, and file submission feature. We've put together an incomplete list, but the features mentioned below are vital features to look out for:
Custom Forms:
This includes branding tools, options, and multiple fields.
Visual Builders: Though not entirely needed, drag and drop editors are fantastic.


Conditional Logic: This features the ability to hide or show some elements like fields, buttons or form sections based on what the customer chooses on the form. This feature is fantastic, it sends the customers to different departments in your organization according to their selection on the form.


Communications: this is a notification system that tells the right individuals that there is an unread new message.


File Submission (Frontend): this feature lets your clients submit ideas in file format. This has been proven to be useful especially when a customer needs to share a screenshot of their issues.


Responsiveness: The form would ensure it's responsive to different device layouts, whether small or big.


Spam Protection: A contact form Joomla without spam protection is useless. There are forms just like the Joomla contact plugin which offers extra protection for spam.
The Best Contact Forms Plugins Available for Joomla 2019
​We've listed below by user demand the best Joomla Plugins for contact forms. If you've got limited time, you can just scan through the brief list mentioned below for these plugins. However, we've also ensured that we elaborated why these are in popular demand.
Quix Form Builder
Form

Maker

Convert Forms

Balbooa Joomla Forms
Creat

ive Contact Forms

Smar

t Forms

Dj-Ea

sy Contact

JD Si

mple Contact Form

Joom

la Contact Lite
Initial Release: 25th October 2018
Last Updated: 10th April 2019
​Does having a form builder inside a page builder interest you? The simplicity of using a pro form builder with top-notch design options readily available without installing an extension.
Recently, Quix Form Builder has been integrated with a form attributes that ensure you create cute, attractive and astonishing forms using just Quix, and most importantly; without installing any extension.
What we are saying is that; this is the first time a form builder can be found in a page builder, excellent isn't it?
This brilliant idea was spawned by the guys at ThemeXpert, and they developed it into a handy tool. This Joomla contact us form element is unique, even though there abound many page builders available. However, none possesses this feature in it. The ThemeXpert developers ensured this element was crafted to be extensively flexible, you can edit its design using its settings.
Quix Form Builder Features
Just like we mentioned above, the Quix form has been fashionably integrated with every critical element. You'll discover different options to create whichever form you need to create, below we mention some of its functions;
Behaves just like a Form Builder
Its nu

mber field addition is restricted to a specific number. You can add as much as you desire.

Intell

igent Grid control

Supp

orts 11 field types

Easy

message customizable option

After

submitting hook

Extensive form styling control options
Field

type multi-select support

Custo

mizable email response support
From Maker
Initial Release: Nov 19 2014
Last Update: Sep 26, 2018
Form maker boasts as a user-friendly form builder. It features a drag and drop interface that ensures easy movement of form fields for easy management. This ensures that the form fields are arranged in sections or aligned properly according to your desire.
This form creator utilizes in-built validation for
specific form fields like Phone, Email and Number fields. It ensures you decide the data type a user would need to fill.​
It should interest you to know that this form maker Joomla extension is developed for both Joomla! 2.5 and the latest Joomla version, Joomla 3.x. Its functionality and features are awesomely stabilized for use on both platforms.

Another exciting feature about the form maker aside from having a captcha for Joomla contact form is that it features Google maps integration. This means that a map can be added to your form via a simple, user-friendly interface. Your desired address can be added in a few seconds using the searching interface for address. Alternatively, you can fill your geographical coordinates (latitude and longitude).

Features of Form Maker
​

Extensive browser support

Mobile-friendly interface
PayP

al payment integration with dual checkout modes; PayPal Sandbox (Test mode) and Production, also five different form field types (Select, Checkbox, Amount, Shipping and Radio).

It has 14 form fields
Custo

m text amongst its form fields and Custom HTML for image display.

Selec

t box

File u

pload

Page

break

Secti

on break

Map
Text

Input

Multi

ple choices

Singl

e choice

Surve

y tools

Time

and Date

Payp

al payment fields

Easy

Captcha and Google ReCaptcha

Subm

it, Reset and Custom buttons

Integ

rated with standard Joomla! Editor

Custo

m JavaScript support

Cond

itional formatting for form fields
Convert Forms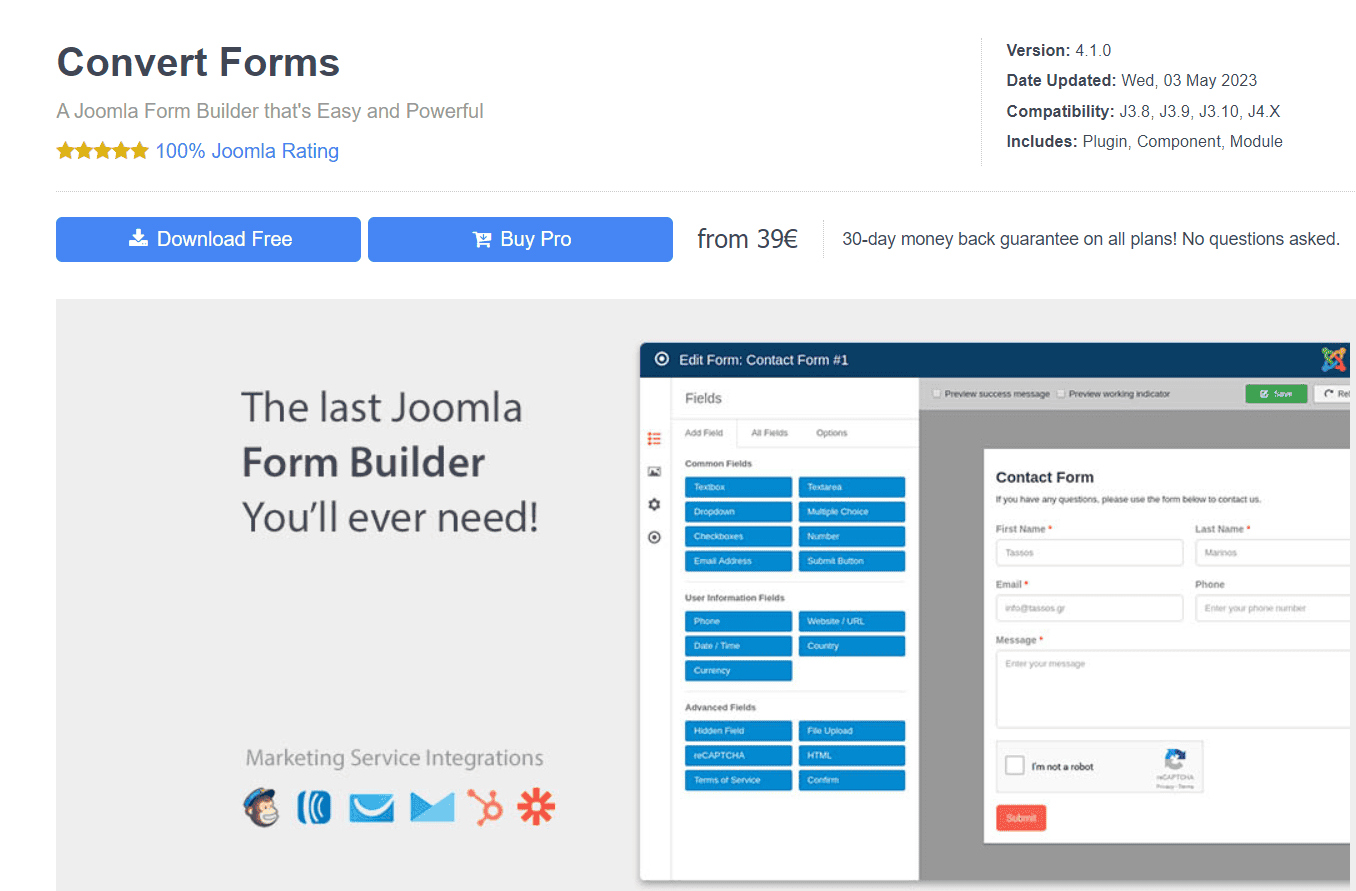 Initial Release: Dec 27 2016
Last Update: Apr 22 2019
​Convert Forms is a Joomla 3 contact form builder extension on the Joomla platform that was built for growth and it is mighty and easy to utilize. There isn't any better, or an effortless way to create leads channels for marketing campaigns on a Joomla platform than the convert forms. The scintillating converting Ajax form for Joomla websites which integrates with top third-party campaign companies such as Aweber, GetResponse, MailChimp, Zapier, ActiveCampaign, HubSpot, SendInBlue, Zoo, AcyMailing, ConvertKit, and Salesforce.
Features of Convert Form
​

Form fields

Form

Builder

Pre-c

reated Forms Templates

Allow

s for Email Services integration

Actio

ns on Form Submission

Email

Notifications

The s

martness of Ajax form submission

Spam

protection

Mana

gement of Form Leads

Export and Import Forms
Exten

sively Customizable Form

Effortless to embed
Mobil

e-friendly and Responsive form
Balbooa Joomla Forms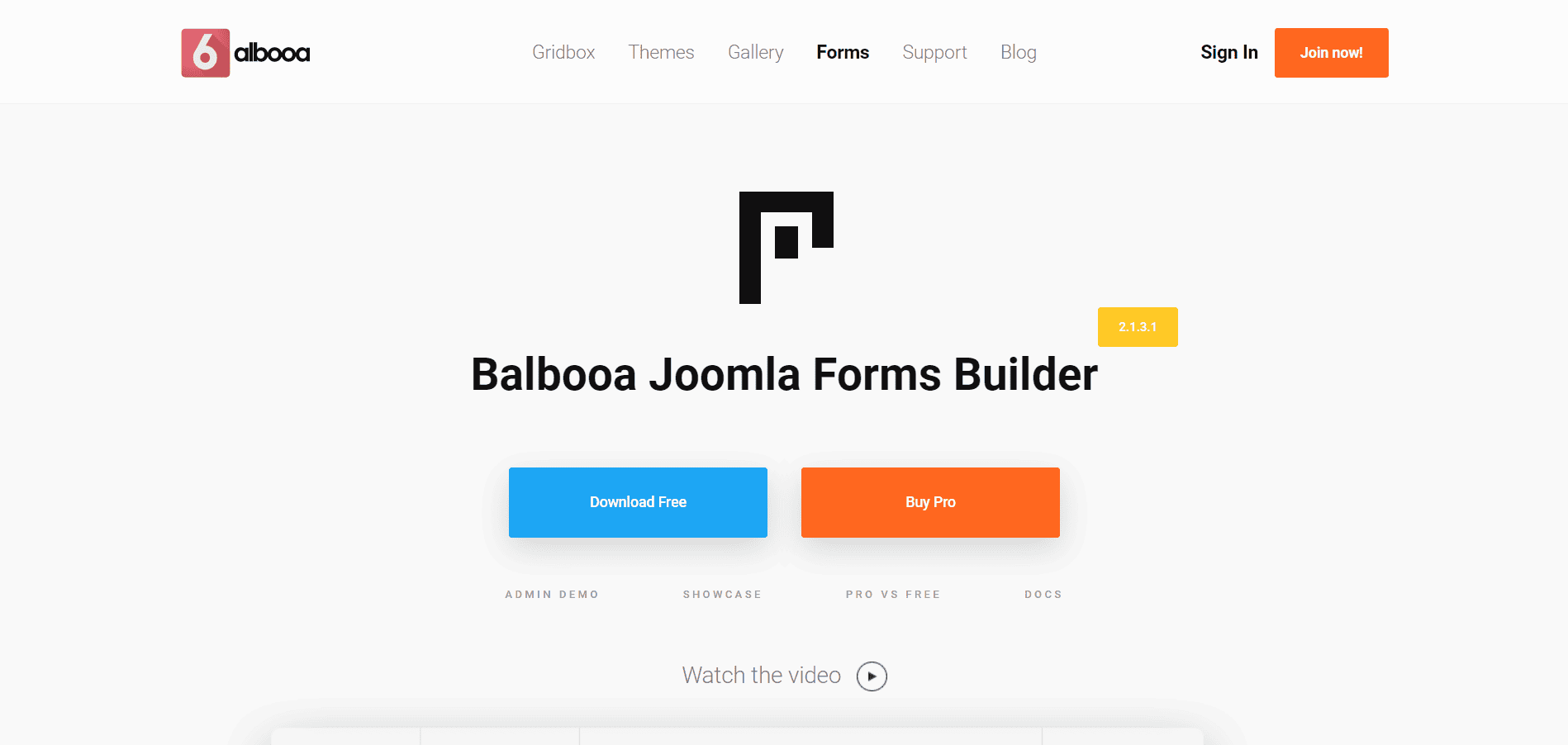 Initial Release: Apr 15 2015
Last Update: Sep 22 2018
​If we are talking about advanced Joomla form builders, the Balbooa Joomla form builder must pop up. This Joomla form builder can be used to create, feedback forms, contact forms, online surveys or any other type of form you desire.
This easy to use Joomla custom contact form builder equally features a drag and drop ability that ensures develop quickly modern and cute Joomla form without coding-
exciting right? This form builder is a champion when it comes to creating modernized forms which are beautiful.

This Joomla form builder is built with a clean drag and drop interface as mentioned above, and its contact forms which are very powerful can be created with just an almost effortless drag and drop of the form fields. You can easily create your forms in mins easily without coding.

The Balbooa Joomla add contact form comes with design tools which ensure you have a unique and beautifully styled Joomla contact form. You'll have complete control over your fields and your form design.
Features of the Balbooa Joomla Form
​

No coding required

Effort

less to use

Drag

and drop Editor

Abilit

y to add your forms anywhere

Unlim

ited colors available

Effec

tive spam protection with Google reCaptcha

Extre

mely responsive form design

Multi

ple columns Form layout

Email

autoresponder

Email

notifications for admin

Cond

itional Logic forms

Abou

t 17 form elements.

Multi-

Page Forms

Save

and Continue Later

Teleg

ram and MailChimp Integration

CSV a

nd XML Export

Print

Submissions

Form

Fields Calculation

Paym

ent Gateways

Form

s in Lightbox

Personalization of Email Body and Subject
Creative Contact Form
Initial Release: Nov 19 2014
Last Updated: Jan 06 2019
​Almost all Joomla contact forms have a unique feature but a primary job, and in the case of the creative contact form, it is mighty with stunning visual effects. This contact form is loaded with lots of possible features which will surely amaze you.
It comes with 27 awesome templates! And not only that, these templates can be customized to meet your Joomla websites desired look, or more interestingly, you can create your own template. Your designs, template customization, all will be installed at the time of installation if you're using the full version.
16 form types are readily available to use as made possible by this form and they cover almost all popular Joomla form types. All still would be installed during installation if you've got the full version. Complex forms can be attained fully working within minutes with the creative contact form.
Features of the Creative Contact Form
​

Integrate forms any place in your content

Fully

customizable texts

It's fi

eld types are flexible-email, phone, name, URL, number, address, checkbox, multi-select, text area, radio.

New checkbox and radio selecti

on effect have been implemented for this extension.

Load

239 country list

Extre

mely user-friendly interface for inputting select options.

Set s

elected options for radio, checkbox selection types.

Send

to many recipients, custom reply, BCC from email.

Auto

filling of username and password if already logged in

Ensur

es page redirect to designated URL after sending mail.

Abilit

y to select all fields as required or not required.

Built

with Ajax (no page reload)

Effec

tive spam protection

Shak

e effect if email subject field is not valid (custom)

Effort

less configuration and installation
Smart Forms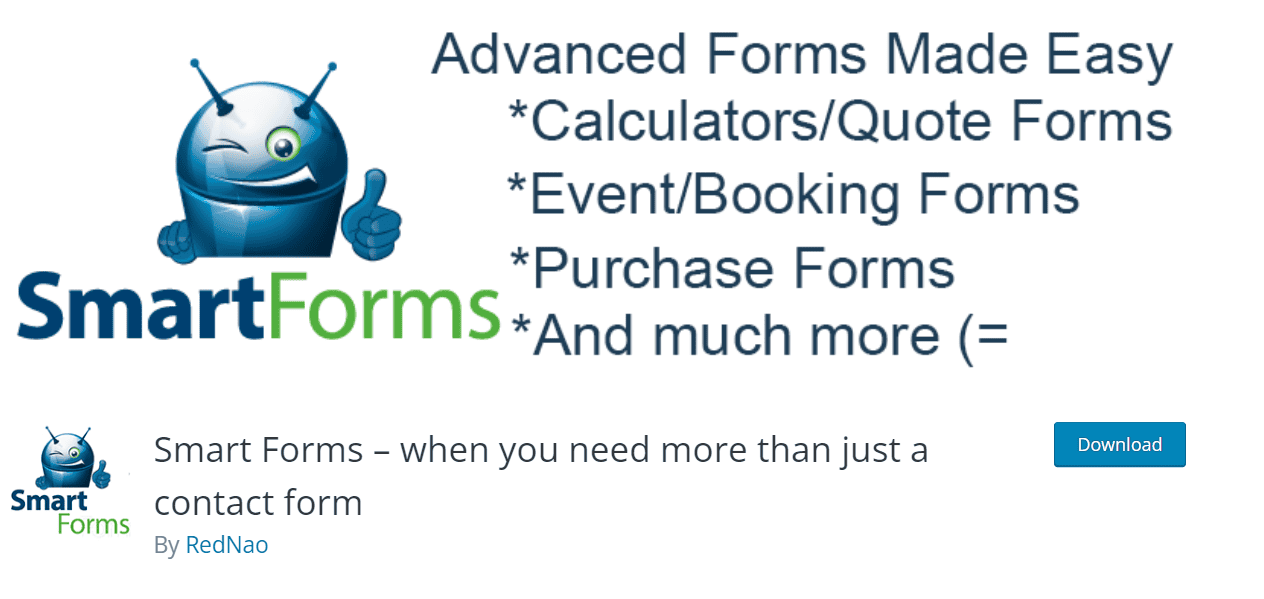 ​

Initial Release: Feb 02 2018

Last Updated: Mar 27 2019
Smart Form is a modern Joomla form creator that allows you to build simple Joomla contact forms and advanced inquiry forms. Also, this form possesses a calculator, though it will require arithmetic operations or show fields in which a set condition is attained.

Features of Smart Forms
​

Lots of fields

Resp

onsive form

Much

needed calculations support

Abilit

y to edit entries

API q

uery available

Prem

ium emailing support
DJ-EasyContact
​

Initial Release: Feb 18 2015

Last Updated: Mar 04 2019
DJ-EasyContact is another straightforward, but free Joomla email contact form extension available today. Some individuals need just a simple Joomla form builder for a simple site. However, in some situations a simple email form gets the job done-a nicely designed and responsive contact form with a pop-up function.
It happens that you don't need a complex Joomla contact form maker. It's quite advisable in such cases to send the message from the website straight to the email address.
Features of DJ-EasyContact
​

Users can show the email field in the extension: set subject and recipient email.

Mess

age field is being displayed as text input or text area.

Abilit

y to choose if you need ReCaptcha

The c

ontact form is compatible with Bootstrap 3.

Multil

anguage ready.
JD Simple Contact Form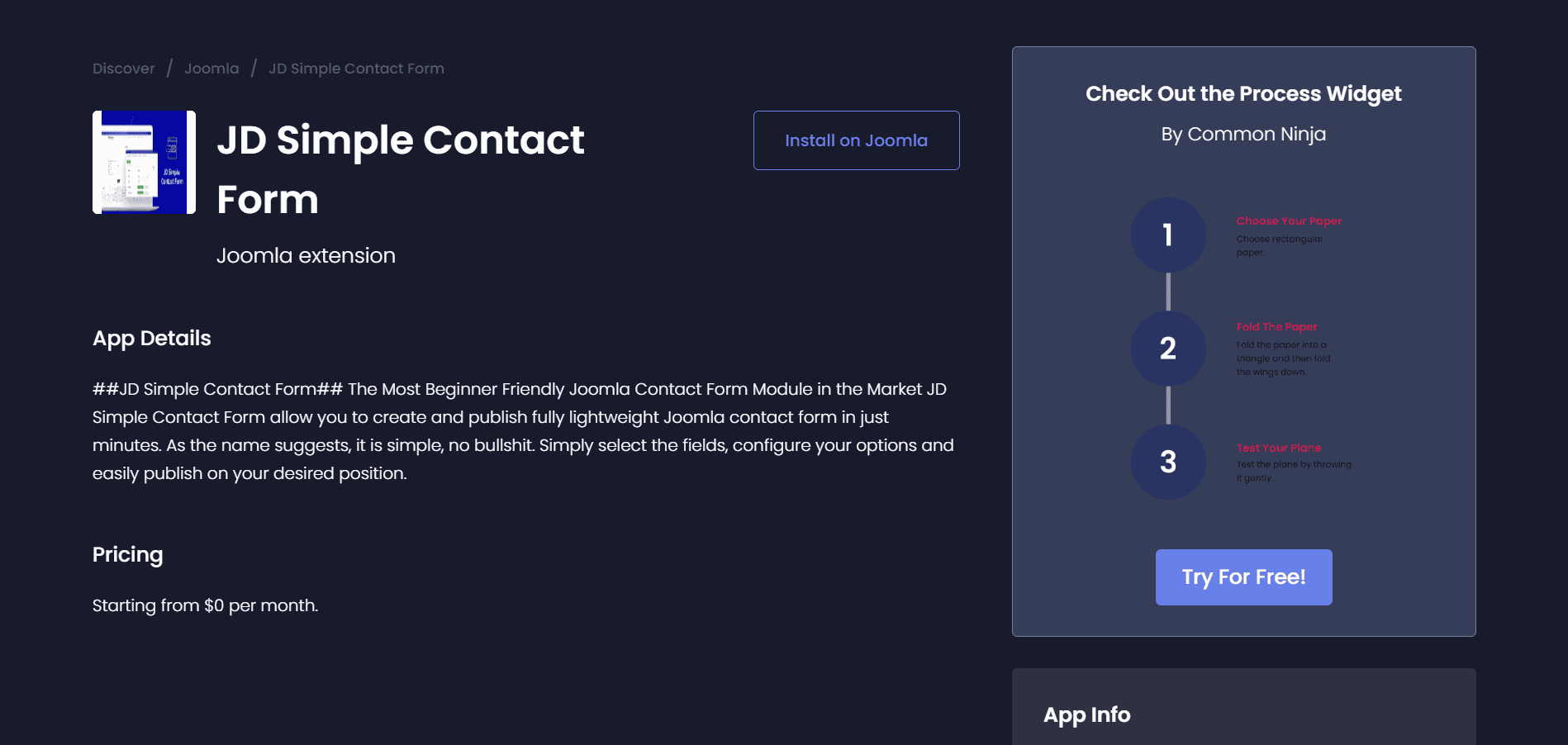 ​

Initial Release: Oct 24 2018

Last Updated: Mar 01 2019
JD Simple Contact Form allow you to create and publish entirely lightweight Joomla contact form in just minutes. As the name suggests, it is pure, no bullshit. Simply select the fields, configure your options and easily publish on your desired position.

JD Simple Contact Form Features
​

Fully Responsive

Page

redirect

AJAX

Support

Goog

le Recaptcha Support

No Copyright
Multi

ple message recipients

Unlim

ited Form Fields

Custo

m and Premade Email Template

Confi

gure Thank You Message

Email

Notifications

Easy

to use

Bootstrap 4 compatibilit

y
JU Contact-Lite
​

Initial Release: Jan 14 2016

Last Updated: Sep 09 2017
JU contact is another unique Joomla contact form creator that ensures you get your desired contact form in just mins. The ease of using JU contact form cannot be underestimated.

JU Contact Form Features
​

Supports bootstrap 3, Bootstrap 2 and it is very responsive

Comp

atible with PHP7 and Joomla 3.5

Easy

form creation with drag and drop field.

Serve

r data validation

Multi

ple validations available— alpha, required fields, numeric, alphanumeric, email address, credit card, regex, phone number, custom function, IP address, URL, ZIP code.

Ability to set a custom redirect page after form submission.
Multi-

page contains form.
​The contact form is not only just any forms, it shows that you are legitimate in business and lets you stay in touch with your customers. You are openly communicating with persons, and that might help you to make a sale or a new reader. If you have any other thoughts regarding contact form plugins, let us know through comment box below.