How To Find And Fix Broken Links in Joomla

A website represents your business identity and hold the prestige of your brand. You invest your most of the time and hard labor to make your website trendy, slick and user friendly. But when a visitor clicks on a link, and if it directs him to a page or files that is deleted or no longer existed, you might not reach to the goal that you deserve.
So, it's harmful for your business. Even it could be reason of losing a handful of customers and slow down your whopping conversion rate.
Generally, most of the website contains broken links. But don't worry, it's avoidable. You might be thinking how to avoid it, right? Before heading to the solution, you have to find out the reason why the broken links occurs. There are numerous reasons that could occur this troublesome. Here are some. - The website owner changed the post or page alias (Probably to improve SEO). - The website is restructured: resulting in page having a different URL.
The website is transferred to a new domain and owner forget or did setup a redirect.
The website may go offline owing to hacking, a firewall, limited bandwidth, or the website owner not paying their hosting bill.
The website owner has removed the page or post
Website no longer exists
External website that have gone offline.
Misspelling in the link
A common technical errors are noticed to forget to include `https://` or `https://` at the beginning of a link. When you make this mistake, the browser assumes that you are trying to link to a location that is relative to your current location. For example, If you incorrectly linked to PSDHUB website from this article instead of https://www.psdhub.com the URL would be published as a https://themexpert.com/blog/www.psdhub.com.
Are broken links harmful for SEO ?
An important aspect of Search Engine Optimization is making your website easy for both users and search engine robots to understand. Majority of SEO experts say that fixing broken links, missing images, and 404 page errors, will improve your overall search engine ranking. But Google states on their website that 404 errors will not impact a website's ranking.
Even though Google has confirmed that 404 errors will not hurt a website's rankings, they do encourage all website owners to fix links on their website for a better user experience. So, when someone lands on your website and finds something unexpected, it really impacts on visitor's first impression in the long run. We've in-depth guide about Joomla SEO and how to improve your SERP ranking. Go check it out.
How to find 404 and broken links?
Now we know the reasons behind the broken links and how important to fix it. They are numerous Joomla broken link checker software and services available that will can scan your website and report broken links to you. Let's have a look on Joomla broken link checker software's around the web.
Google Webmaster Tools is a FREE web service by Google for webmasters, analyzes your website from the perspective of the Google search engine rather that visitor activity that occurs directly on your site. It not only provides critical information that can help you drive more traffic to the correct pages on your site, but also help to find out 404 errors and broken links.
You will find 404 errors and broken link information on the Crawl Error page; which is located in the Crawl section of the main menu.
To find the errors and broken links, add your website the Google Webmaster tool and verify your website ownership from from the recommended or alternative method.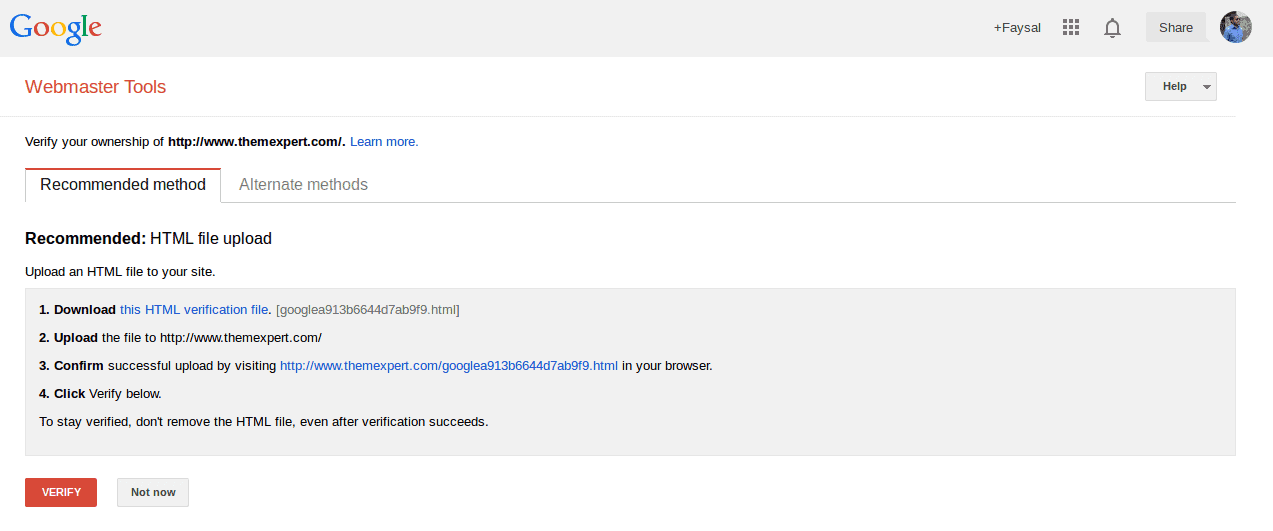 The below page displays site errors and URL errors for desktops, smartphones, and feature phones. URL errors are categorized, with server errors, soft 404 errors, and normal 404 errors (not found), all being presented separately.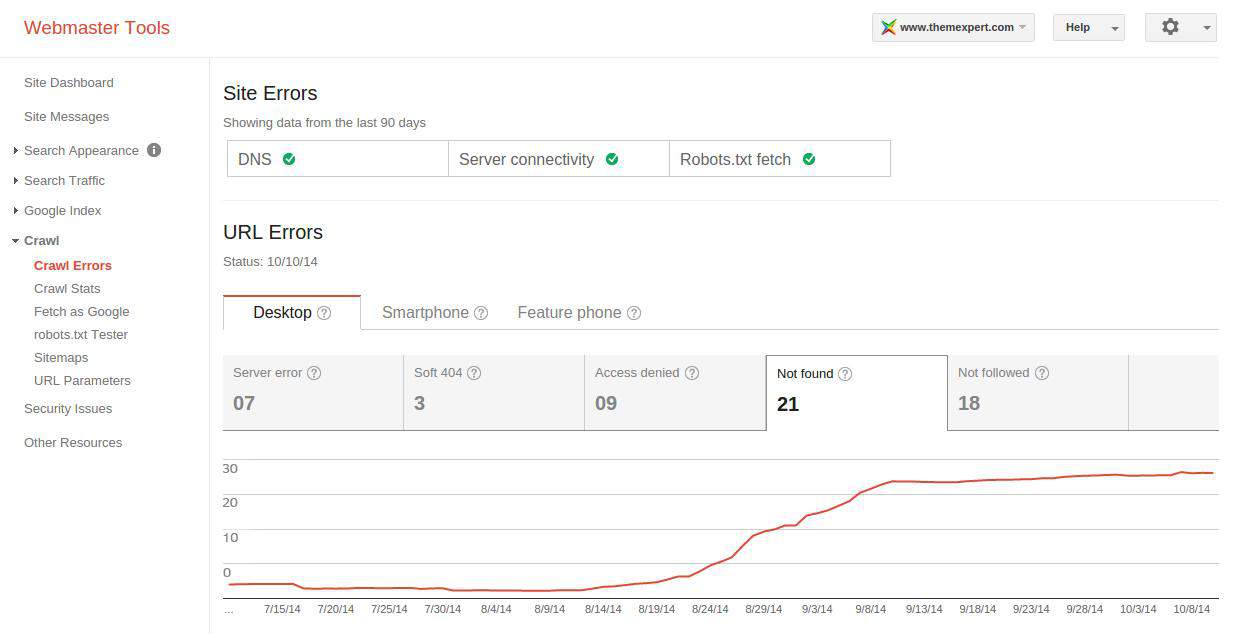 The not found page lists all of your 404 errors. Scroll a bit down to get into the list and check individual error. Some errors will point to pages that you have removed from your website, however others will be genuine broken links that should to be fixed.

To bring up details about the broken link, click on the url from the list. It will popup a modal window with the full URL of the broken link and the first time the error was detected with first and last browser crawling date.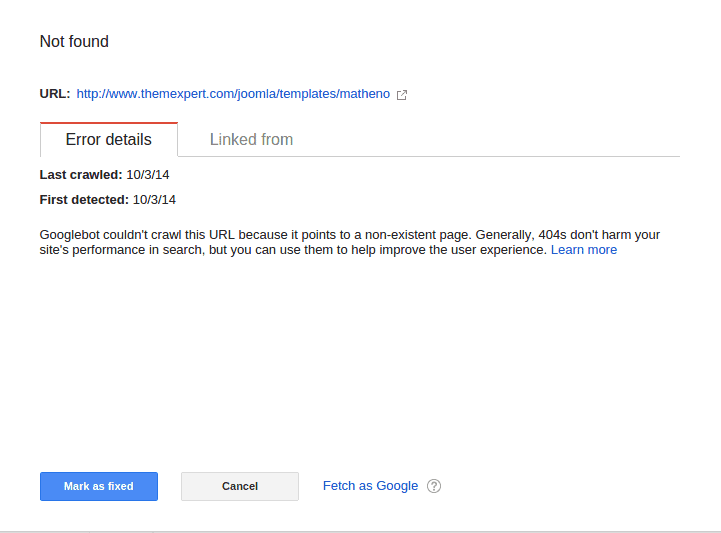 If you want to know the linked source, click on the "Linked From" next to the "Error Details" tab, will help you to see exactly where the broken link was found.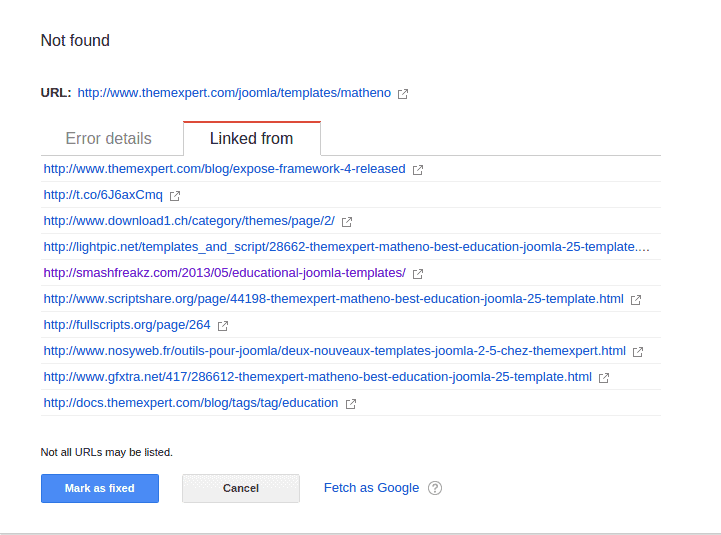 The Redirect Manager is a component, accessible from the Joomla back-end of. It was introduced in Joomla! 1.6 and its main function is to provide a mechanism to give an administrative ability to redirect the URL of a web page which no longer exists to a working web page. To Head into the Joomla Redirect Manager, Select Components→Redirect from the drop-down menu of the Joomla! Administrator Panel. Here in this panel you will find the list of enabled, disable, archived and trashed 404 as well as broken links. Even your search for specific link your assumed to be broken.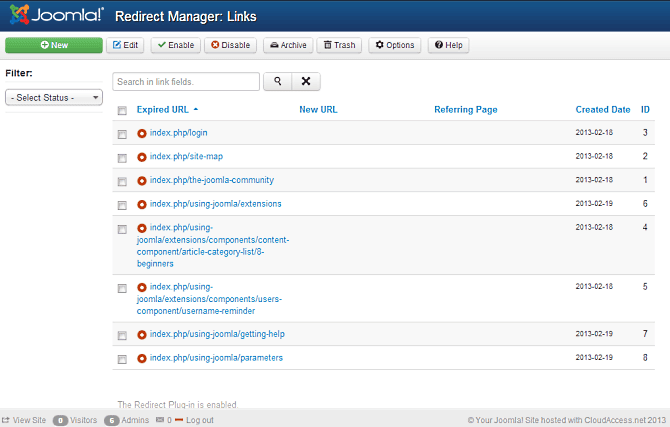 [Note: Make sure you have enabled an extension System - Redirect from plugin manager which remains by default disabled, otherwise Joomla Redirect Manager will not come into function]
Link Valet is a WWW Link checker. When you enter the URL of an HTML page on the Web, it will scan your whole website, and print a report of broken links in various colors. But Link Valet is not an easy way to see all broken links together at a glance.

How to fix broken Links?
When you have done with the listing of broken links of your website, you can move forward to repair and redirect them. Now you can do one of the following to fix your broken links on your website.
Correct the link with redirect manager: The easiest way to fix the broken links of joomla powered websites, is from the Joomla Redirect Manager. Just head over redirect manager, click on broken link from the list. It will take you to the Edit Link panel. Set destination in the Destination URL input box, tunt the status into enable if it is disable and click save and close.
Correct the Link: If you missed to link a website incorrectly, The only thing you have to do is edit the URL and replace it with the correct value. For example, one of the most common reasons a link becomes broken is because the author forgot to put https:// at the beginning.
Unlink the Link: Suppose you linked to a page that is no longer exists, or no longer relevant or available, you may want to completely remove the link from the article.
Mark as Fixed in Google Webmaster Tool: The idea of Mark as Fixed in Google Webmaster Tool is just to allow webmasters to clean up their previous report when you have fixed errors. Eventually, Google will get informed that the broken links have been fixed.
Conclusion 
You invest your time and money to make your website full of content. But if they go beyond the visitor's access, you might lose your visitors as well as reputation. So, be careful with it. They are numerous way to find broken links on your website. I have shared my preference with Google Webmaster Tool and Joomla Redirect manager. If you follow another method to fix your broken URL feel free to share in the comments.