Top 7 Digital Marketing Trends to Follow In 2019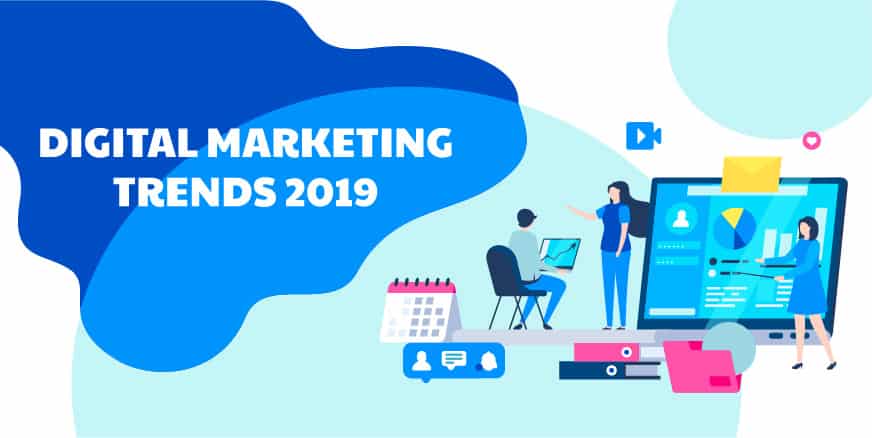 Digital marketing is an industry in constant evolution. Every month, new changes appear in the world of social networks, search (Google) or content marketing (blogging, videos, etc.). New technologies are coming into our lives with new Digital Marketing Trends. There are various social media platforms, like Twitter, Facebook, Instagram, Snapchat, etc.
Today, it is not enough to be present on a single platform, it is more interesting to integrate several in your strategy. After all, you are not at home. Fortunately, you can combine them (or integrate) together in your strategy. For example, use Facebook, Instagram, and Facebook Ads to promote your blog posts, not to mention optimize your articles for SEO.
You could also turn a blog article into a short video and post it on multiple social networks, adapting the message to meet different expectations on each one. The possibilities are numerous. It's up to you to choose which platforms you want to "play" and see which ones work best for you. In the next few years, also expect to see artificial intelligence invading our world with ever smarter robots, the rise of voice assistants like Alexa, and so on.
However, we will not just list but also explain the 7 of the top digital marketing trends 2019, which is expected to drive real growth to businesses. So, sit back tight and enjoy the article.
​Video marketing is on the upward slope and it is one of the current marketing trends. YouTube, Facebook, and Netflix are fighting to become your second television. Internet users want more video, and it's up to businesses to adapt. Cisco anticipates that 80% of content on the web will be videos by 2019.
I still have other interesting statistics for you, all harvested by Forbes:
According to YouTube, Internet video consumption doubles every year.
64% of consumers are more likely to buy a product online after watching a video of this product.
Video ads now account for more than 35% of all online advertising spend.
A third of the time spent online by Internet users is dedicated to watching videos.
On social networks too, videos are very popular, especially on Facebook and Instagram.
In 2017, Buzzsumo conducted an interesting study that clearly shows that the videos on Facebook can obtain a much higher commitment to other types of publications (images, links). Native videos also appeared on LinkedIn a few months ago and using them literally gives you free visibility.
Lives are also becoming more popular on social networks and more and more businesses are starting to adopt these latest marketing trends, even if the transition seems a little more difficult. According to a study conducted by Buffer, only 31% of marketers surveyed had a Live in 2017.
For those who did Live, 91% of respondents used Facebook as a platform to broadcast their Live, followed by Instagram and Snapchat.
Often, when we think of videos, we think of filming ourselves in front of his smartphone and then editing (or delegating). In other words, it requires being comfortable with the camera, a skill that we do not naturally have. And in addition, it requires video editing skills (or money).
If you are introverted, it can seem intimidating. For me, it was. So to get started, I first invested in editing software.
I chose Lumen5 for its value for money and its many recommendations. The advantage of this software is that you can create professional videos from images or mini-clips in just a few minutes. It is extremely easy to use, and within moments, you can create a video like a pro without any expertise. This is the smartest way to create social posts, stories, and ads not being a hard worker but smarter.

This allowed me to get interesting results in terms of organic reach on my Facebook page. To be more comfortable in the video, I also recorded interviews on Skype with screen sharing which I then published on my private Facebook group.
So that's what I advise you to do if you have not started yet because it has been proven that visual content will be a huge boost in 2019 marketing.
These bots that make you talk on Messenger. Personally, I feel that it has been barely a year since chatbots really became popular on Messenger. Yet, statistics show that the growth of chatbots is impressive, from 33,000 "only" chatbots in September 2016 to more than 100,000 a few months later.
Chatbots are one of the latest digital marketing trends and can be used to improve customer service, send content or promotions, etc. Domino's Pizza is my favorite example to show you a clever use of chatbots.
In the USA, if you click on "Send a message", you will be introduced to a chatbot who will invite you to:
Make an order
Redo an order placed
Track an order
You understand you can order a pizza without interacting with someone on the phone, Incredible!
Now, I would like to add 2 things about chatbots:
1. That Remains Permission Marketing
Unlike emailing where we receive (often) spam emails, you will never receive an unsolicited message on Messenger from a chatbot. You must first have interacted with the company on Messenger to receive Messenger campaigns, for example:
By clicking on a link that links you to Messenger
By contacting the company directly via its Facebook Page
For the second point, if you contacted a company on Messenger, it can send you messages via a chatbot (since you are part of his Messenger contacts). At any time, you can unsubscribe from automatic sequences on Messenger.
2. People Like to Interact with a Chatbot
Chatbots have already been well adopted by the American population, with already over 50% of Americans between 18 and 55 years old who had an interaction with a chatbot.
Another study conducted by LivePerson (5000 respondents) also shows that respondents are quite positive about their experience with a chatbot. 38% of respondents had a positive experience compared to only 11% who had a negative experience.
However, it seems certain that bots will not be so badly received in our society. Another good news: there are inexpensive software programs, like Manychat, to set up your chatbot and create mini-sequences on Messenger, by configuring automatic answers to common questions or queries for example.
Expect to see more companies using chatbots in 2019 and after for their customer service.
​The Stories Instagram can be defined as multiple images or videos assembled together as a slideshow, and set tells a story. Unlike a conventional publication, they have a life of only 24 hours. It is a real "game-changer" in the sense that users can publish on social networks in a more spontaneous way and therefore with less preparation than classic content.
They were popularized by Snapchat and then reposted by Instagram in August 2016. As you can see, Stories are displayed all on the screen, creating immersive experiences.
This is a real success when you count that there are already more than 300 million Instagram users who make Stories every day, almost 2 times more active users than Snapchat. But don't think that only individuals benefit from this digital media trends.
Companies too have taken advantage of this innovative online marketing trend since they plan to create more in 2018, according to this study conducted by Later. Companies want to invest their time and money in stories to take advantage of this format that is both authentic and engaging, which in addition allows them to have all the attention of the person, to:
Humanize their brand
Show behind-the-scenes content
Show the progress of a project or the creation of a product
Teaser of new products
Make an announcement
In addition, the ephemeral nature of stories means that companies can take advantage of it to make limited-time promotions, most companies also incorporate storytelling in other to bring more customer engagement.
Rise in Cost of Social Advertising
Yes, you read right and should expect this in 2019's b2b digital marketing trends. These elements mentioned in this article could well change the situation of marketing in half a dozen years. Because the question for advertisers will no longer be: "how to reduce Internet social advertising rates and be present at low cost on a maximum of websites." But "how to capture the real attention of users by being perceived positively".
However, this paradigm shift should lead advertisers - and their agencies - to rethink their positioning on how to reach people. And at the same time, internet advertising rates increase as the real attention of the users becomes a variable taken into account in the calculation of the prices of the campaigns.

But this increase should not be seen as a problem for advertisers, on the contrary. Tracking, optimization, and targeting will help advertisers focus on impactful campaigns that really affect the users who are their target audience. And thus benefit from an ROI despite the tariff increase.
Website publishers will be able to balance their business model between a premium formula and an ad-supported formula, generating viable revenue, but with better-targeted campaigns, better integrated, more impactful for users and advertising rates.
If the promise of rapid global growth makes you dream, you should know that the growth in question here is primarily that of your user base. Then the fruits of these first optimizations will materialize, thanks to the time saved by the automation.
An Ideal Strategy to Develop its User Base.
​Growth Hacking is one of the latest online marketing trends and it was first developed by start-ups. Like any business, they aim to increase their turnover. But, more than any other company, they must also make themselves known. Who can sell a totally unknown product or service, indeed? Hence the idea of acquiring traffic.
A small example to better understand, Airbnb, you know? Well, to make itself known, this site has resorted to Growth Hacking.
Each ad published on the platform was systematically relayed to another non-partner site but much better known in the United States (Craiglist).
This is how Airbnb now enjoys a global audience.
In this example, we understand not only the concept of "piracy": needless to say that the strategy adopted by Airbnb was not very fair, or even the limit of legality. Fortunately, however, Growth Hacking techniques are not all of this kind.
Another aspect of this strategy is also reflected here, that of automation. Of course, nobody at Airbnb took care of manually relaying the ads on Craiglist. The process was automated.
And Generate Rapid Growth
Of course, increasing your user base will ultimately boost your revenue. This is not a mystery: the more known and reputable your products are, the more likely they are to sell. Growth Hacking, by increasing your visibility, will give better arguments to your sales representatives. The key is real economic growth.
When we talk about user-generated content or UGC (UGC), we generally refer to all content made available online, which would have been produced in whole or in part by end users, and most often traded through social media. The TOS may be videos or product demonstrations, blog posts, photos on certainly specialized platforms such as Instagram, or any other testimonial to promote a product or company.
These contents are quite representative of the evolution of habits on the web, with the ever-increasing progress of social networks and online communities. Because it's a fact: Internet users are less and less fooled by unfounded advertising messages and they finally have little interest in traditional advertisements touting the merits of products that are not adapted to their own problems.
On the contrary, an online recommendation is seen as a true validation of the quality of the product and the seriousness of a brand, with consumers trusting themselves to leave honest evaluations of their purchases.
And this is all the more important as the means to share his opinion are nowadays very varied: photos, videos, tweets. It is now considered that 80% of the content available online is user-generated content. But if Internet users find it interesting to consult opinions online, they are also 59% willing to share their opinion with a company against some financial compensation.
This is an impressive figure that shows that the UGC market is indeed colossal for advertisers. And the consequence of this is obvious: UGCs are a real asset for a brand and many companies, big or small, trying to take advantage of this opportunity to outperform the competition. Now you should expect this type of new marketing trends more in 2019.

Interactive Content Marketing
It can be understood by Interactive content Marketing, the one that uses communication techniques that are based on technological supports such as, quizzes, polls, videos among others.
The advantages offered by interactive content marketing to the companies that use it are: segmentation of its target, since the main tool used is the quizzes, this allows reaching a specific audience and also for the company to get closer to the client in a non-invasive way, there is also the coverage that as previously mentioned is carried out during marketing and this has great coverage worldwide and allows that which the company wants to transmit quickly reach the desired audience; theInteractivity.
It is also part of the advantageous marketing group, because it allows the company to interact with the target audience and thus create relationships to be able to reach customers more easily and thus sell or offer products or services in a more personalized way and this it leads to an affinity which suggests that it is when a group of individuals has common interests; already in the commercial part, it is when a strong connection with the clients is generated, therefore this advantage is quite profitable since through the affinity with time the relations between the organization and the client are strengthened.
Since the internet is the main tool, another advantage is used, which is through the use of information channels, distribution and sales, so that through this you can commercialize the products or services managing the creativity so that the experience with the client is more positive and thus the campaigns that are made by this means are very effective. The Branding is extremely important because through it the salient features of the product are shown so that the client is fully informed.
All these advantages lead to interactive content marketing to be an intelligent marketing since through all of them you can offer customers in a personalized way products or services that are looking for at that moment through the distribution channels with which the company.
We have discussed these new trends in digital marketing to follow that are expected in 2019 which will surely improve any digital business if done properly. If you haven't started yet with any of these top marketing trends, it will be great to start now.