weForms Probably The Best Free Contact Form Plugin Coming To All ThemeXpert Wordpress Themes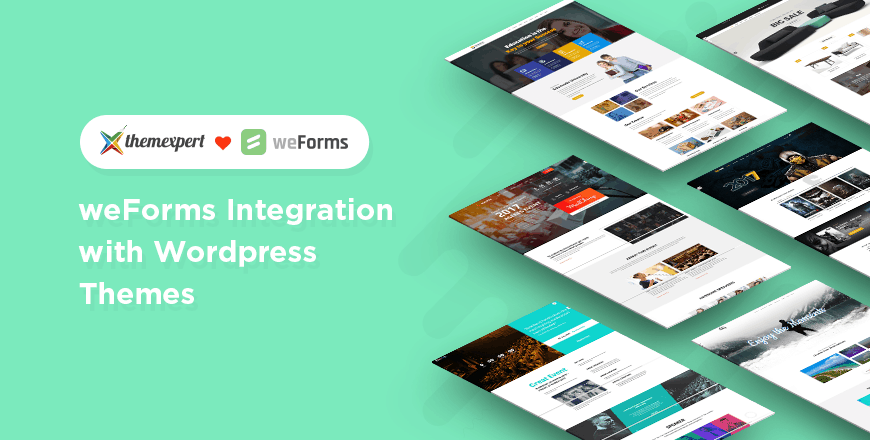 You cannot think of a website without having a contact form at all. It is one of three plugins that you install at the beginning. There are several WordPress contact form builder plugins available in the WordPress plugins market. Some of those are free, and some of those are premium.
There are hundreds of free contact form plugin available on WordPress plugin directory and most of them provide very basic functionality. Our friends at weDevs on a mission to fix this problem and created the best user-friendly contact form plugin for WordPress.
All of our WordPress themes come with the popular Contact Form 7 integration as off now. But, we decided to use weForm as our primary plugin for creating forms.
Our upcoming LMS-supported Educational theme "Edumodo" is going to be the first template that will come with the support of weForms. All of our existing theme will receive an update recommending weForm.
Reason For Selecting weForms
Contact Form 7 is the most popular free contact form builder for WordPress counting over 60 million+ download and 1 million+ active installs. But in our opinion, weForm is the most user friendly and fastest form build plugin for WordPress.
It feels like a Single Page Application(SPA) with instant reactivity.
Not only the fastest, free version of this plugin jam packed with too many features needed for a simple website. You can create contact form, leads generating form, register visitors, quizzes, event registration and much more...
One Click Form templates
Create any forms with just one click from predefined, customizable templates. Give your form that industry standard looks very quickly.
Submission Management
Manage any submitted data very easily from one place. You can also export/import data as you need.
Drag & Drop Form Builder Experience
Quickly make the form by dragging the elements from the sidebar. The user-friendly interface lets you do design much faster.
20+ Custom Field Elements
Make any types of forms by using templates or use your imagination and 20+ custom fields.
Instant Preview - See What Are You Building
The form builder generates automatic preview instantly. When you add or edit an element in the form, you get to know the exact look at the same time.
Geolocate Contact
Add Google Maps integration so your contacts can add their current location. If you are up to a delivery service, this efficiently improves the performance of your form. Enter your text here ...
Customizable Email Notifications Templates
Quickly create several custom notifications settings on every single form email forwarding. You can also receive notification for form submission just as you want.
​More Features
​

Fully responsive forms.



reCaptcha for ensuring security.

Form redirection and expiry time.

Sync email data with MailPoet, MailChimp & Email Campaign.

Multi-step/Multi-part Forms

Form Entry restrictions & Scheduling.

And much more.



Our Wishlist for weForms (aka Feature Request)
weForm is a great tool to create forms with advanced features and functions. The functionalities of this great tool can be expanded by implementing followings.
​

Search box option to find previously created forms.



Option to create custom messages in the event of any form submission or error.

Payments system integration.

Online storage integration.

weForm contains all the necessary features and functionality, these additional features(requested) will make it more awesome. I know, we are requested too much for a free plugin :)
Conclusion
Hope you will enjoy the plugin support. If you have any kinds of suggestions or questions, you can write below. We are eagerly waiting for your response.