How a fast-loading WordPress theme can help improve conversion rates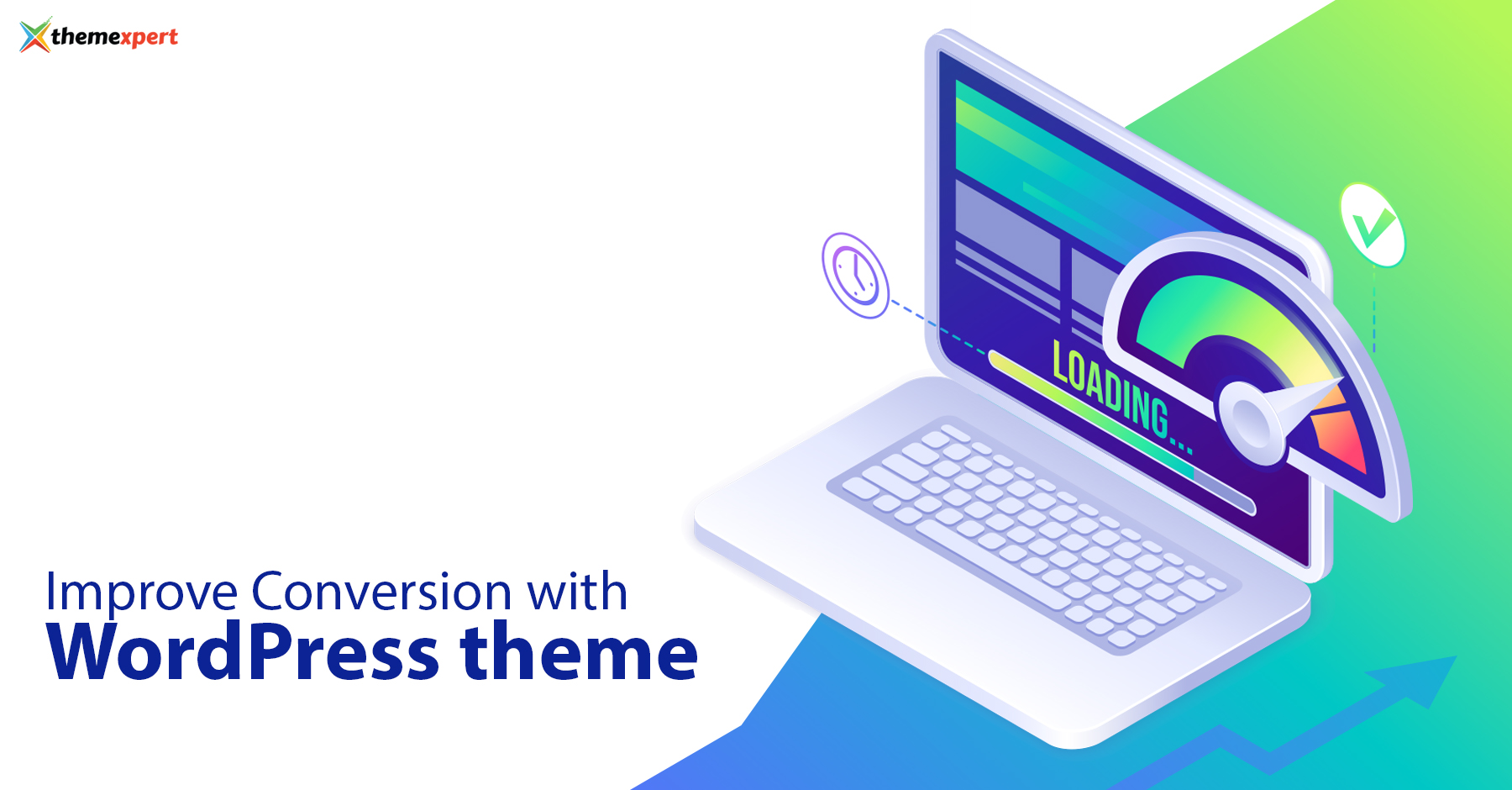 For every website owner, conversion rates are the bread and butter of the business. If your site has a slow loading time, your visitors will leave your site immediately instead of waiting to view your pages.
Nearly 70% of visitors say page speed impacts their buying behavior and 2.37% of visitors bounce when your site takes more than 4 seconds to load.
A one-second delay in page loading time may cause approx 7% loss in conversion.
For example, if you own an online store with daily earnings of $60,000, that one-second delay adds up to more than $1.2 million in sales loss each year.
So, page load times and conversion rates are interrelated.
This article will discuss how a fast-loading WordPress theme can improve page speed and conversion rate.
Using one of the fastest WordPress themes, you can boost your site's conversion, improve its SEO and create a smoother user experience.
We'll discuss the following points in this article:
What is conversion?
What is a webpage's conversion rate?
Page traffic vs. conversion rate
How does the WordPress theme affect conversion rates?
What factor to look for in the fastest WordPress theme
Fastest loading conversion-optimized WordPress themes
By the end, you should have a good idea of why fast-loading WordPress themes can help with conversions.
What is conversion?
Conversions mainly happen when a user does something in response to a CTA (Call To Action).
Conversion is a marketing activity that a website visitor takes, and this action is considered profitable for every website owner. This action converts your visitors into leads.
A conversion can be anything, including:
When a user makes a purchase
Submitting a contact form or lead-gen form
Signing up for your newsletter
When a user downloads an eBook or app
Registering on your site
The interesting thing to note is that a conversion doesn't always mean immediate revenue for the company. For instance, let's say that you have a site where you sell online courses to your audience.
Ideally, you would want people to purchase the courses directly from your site with very little effort with a button in a blog post, but that's unlikely to happen with new visitors who barely know or trust you.
So, a better strategy would be to have people sign-up for a free mini course and then use email marketing software to push them through a marketing funnel to eventually purchase one of your paid courses.
While a "conversion" doesn't always equate to immediate revenue, the goal of any conversion is to get the reader more involved with your brand and to build trust for future revenue opportunities.
What is a web page conversion rate?
A web page conversion rate is the percentage of visitors that take the desired action. The conversion rate is a tool to check how well optimized your website is.
To check your website conversion rate, use this formula: (#) conversions / (#) of website sessions = (%) website conversion rate.
Let's understand more with this example, say you ran a marketing campaign on Instagram. Your campaign reaches 100,000 people.
Out of these people, 5,000 users have clicked on the ad, which is your conversion goal.
Therefore, your conversion rate can be calculated as:
5000/100000= 0.05, or your conversion rate is 5%
This means that 5% of users saw a campaign and clicked. That's your conversion rate.
Page traffic vs. conversion rate
Page traffic and conversions are two key ingredients for successful marketing.
When you drive more page traffic, you're inviting more people to your website and convincing them to learn more about your business.
The conversion rate is the number of visitors that perform your desired action. By focusing on an improved conversion rate, you automatically improve the different aspects of the sales funnel.
Many of us get confused as to which one to focus on; conversion rate or website traffic because both of these terms bring more customers to your website.
To be specific, the website traffic leads to more conversions and you'll have more opportunities to generate more leads.
Page traffic is not just about the number of visitors, but also motivates your visitors to buy from you.
Thus, both conversion rate and page traffic are essential for your company's marketing success.
But, we often ignore one or both of these.
When your site has more visitors, but the total number of converting users decreases, your conversion rate declines.
In contrast, if page traffic decreases or stays the same and the conversion rate increases, the conversion rate goes up.
How does a WordPress theme affect conversion rates?
When you choose the right WordPress theme, it can be a golden ticket to high conversion rates. These conversion-optimized themes build a strong foundation for better conversion.
Many elements affect conversion rates, including your page size, responsive design, page load times, scrolling time, layout, and overall design.
Most fast-loading WordPress themes are lightweight and can directly impact your Google rankings. These themes are designed to maximize conversion rates through their speed, functionality, eye-catching calls to action, and optimized layout.
You can achieve these factors using lightweight and fast-loading WordPress themes.
Before moving further with conversion-optimized and fastest WordPress themes, consider the below factors while choosing the perfect theme for your website.
Factors to look for in the fastest WordPress themes
We know that a website's page loading speed impacts conversion rates. When a site loads faster, the conversion rate improves.
Look at the image below for insight into how page speed influences conversion rates.
(Source: Bidnamic)
A fast-loading WordPress theme is typically well coded and built to the highest standards. As a result, your site will have a better user experience and should gain more traffic.
As thousands of themes are available on the market, it can be tough to choose the perfect one.
Here are a few factors that you should consider to check out whether a theme is worth using or not:
Small page size
SEO ready
Responsive and customizable
High conversion
Small page size
A theme is created with JavaScript and CSS code. The code may make your website look awesome, but can slow down page load times.
By paying attention to images, files, and content, you can determine the page size. A smaller page helps it to load faster.
SEO friendly
Look for a WordPress theme that has been built to be SEO friendly. This type of theme will load quickly as speed is an SEO signal. It may also integrate schema markup, code added to your site's HTML that can help search engines understand what's on the page and help generate rich snippets.
These snippets are more likely to bring traffic to your site and support voice search results for Google, Siri, and Alexa.
Responsive and customizable
A theme should be accessible on any device including laptops, mobile phones and tablets. A responsive theme automatically adjusts screen size.
Using customization options, you have the freedom to design your website according to your needs.
You can also change your site appearance by changing fonts, colors, typography, and layout.
High conversion
According to Hick's Law, you can boost conversions by limiting the number of choices on the navigation bar and by not having too many links. Do this and there's nothing much to distract from your core message, which helps driver conversion.
Fastest loading and conversion-optimized WordPress themes
Thousands of free and premium versions of fast-loading WordPress themes are available on the market. In this post, we'll cover the top 3 fast-loading WordPress themes.
All three themes are tested using the same hosting provider and the same sets of the demo content, pages, and widgets.
Each theme below is well-coded, fully responsive, and designed to generate maximum conversions.
Just browse through the below themes and take your pick.
| | | | | | |
| --- | --- | --- | --- | --- | --- |
| THEME | PAGESPEED SCORE | YSLOW SCORE | FULLY LOADED TIME (S) | TOTAL PAGE SIZE (KB) | REQUESTS |
| | 99% A | 92% A | 0.9 | 107 | 15 |
| | 98% A | 87% B | 0.6 | 97.1 | 16 |
| | 98% A | 91% A | 1.2 | 122 | 12 |
(Source: Themeisle)
Astra is one of the most popular WordPress themes and is loved by millions of users. The theme is optimized for speed and performance and scores well on all popular speed tests.
Astra is responsive and you can customize it however you like.
The theme is also compatible with Elementor and Beaver Builder which help you build pages faster than ever. With an expansive library of Starter Templates and customizable elements, you can build any type of website you like in no time at all.
If you're planning to open an online store, Zakra is a suitable WordPress theme. It's optimized for speed and works seamlessly with WooCommerce. The theme also includes multiple eCommerce starter templates and is compatible with the Elementor page builder.
Zakra is SEO friendly AMP-ready WordPress theme is responsive and helps your website look beautiful on any device.
X theme is a stunning WordPress theme. The theme is compatible with WooCommerce and drag and the Cornerstone page builder. You can easily create a high-converting website without coding experience.
The theme is also bundled with premium plugins, including Slider Revolution. X theme is retina ready and fully responsive. Also, suitable for any business. Try this fast-loading WordPress theme to make your website shine.
Bottom line
In short, page speed affects conversion rates. You can improve this with any of the fast-loading WordPress themes that we've mentioned.
If you find this article helpful, don't forget to share it with your friends and family. You can also share your views by leaving them in the comment section.
This is a guest article contributed by Sujay Pawar.
Sujay is the CEO and Co-Founder of Brainstorm Force, the company behind Astra. He's passionate about the online space and writes articles to help entrepreneurs and freelancers succeed online. A father, a Youtube addict, and the brain behind numerous world-class products, you can connect with him on Twitter. @sujaypawar.