7 Best Free Graphic Design Software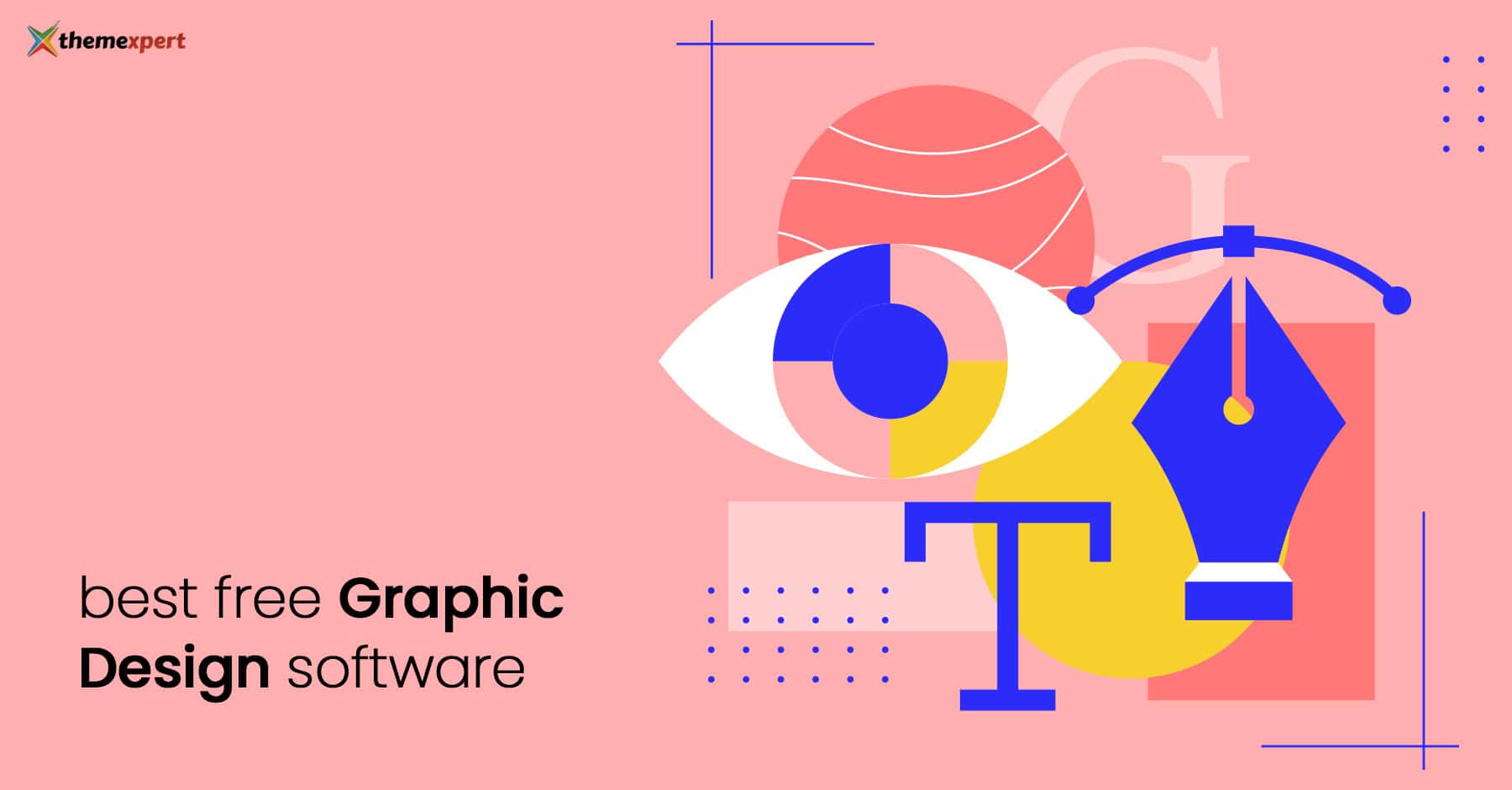 The journey toward making the perfect graphic design can be challenging. In this long journey, many factors come into play, like a graphic designer and his/her artistic abilities, and most importantly, the right graphic design software.
Without good software functions and flexibility, a designer can feel robbed of his/her creative skills.
Therefore, we thought of doing a countdown of the 7 best free graphic design software in 2023.
So, let's get started.
Read more: 7 Best Free Online Design Tools
What is Graphic Design Software?
Graphic design software can achieve a lot of endeavors like creating logos and illustrations, editing photos, web designing, and much more. Almost all software have pre-made templates, giving designers a much-needed head start in their various creative projects. Don't forget to show off all of your finished creative projects on your portfolio website!
Graphic design software also has a huge image database, including stock photos, infographics, illustrations, etc. Additionally, their intuitive interface and various collaboration tools let the designers see the bigger picture while working on a design.
Best Free Graphic Design Software for Marketers
As a marketer, you know how important visuals are in your campaigns. But creating visuals can be time-consuming and expensive. Fortunately, there are now many free graphic design software available to help marketers create beautiful visuals without breaking the bank. In this article, we will look at some of the best free graphic design software for marketers that can help you create stunning visuals quickly and easily.
Adobe Express (formerly Adobe Spark)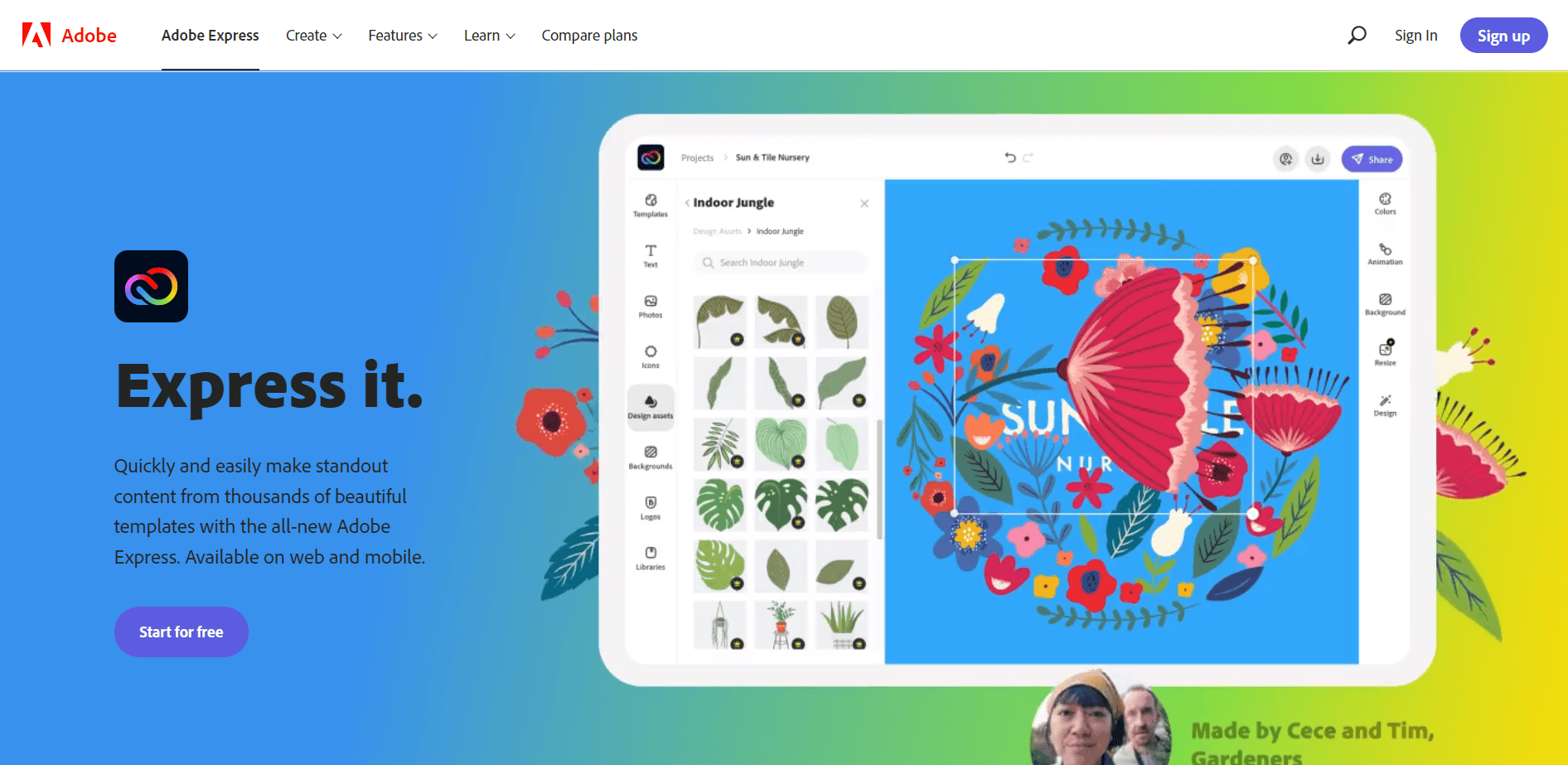 Adobe Spark is free; all you need is an adobe account to get started and create professional-looking graphic designs. The user-friendly software intuitively categorizes your designs into three categories, post, page, and video.
All three options are visible on the dashboard the moment you log in. You can click on 'post' if you want to create social media posts; through 'page', you can design catalogs and portfolios; and through 'video', you can make visual presentations and tutorials.
Key Features
Remove background – While creating designs, sometimes you come across a great usable image, but the background interferes with the overall look. Keeping this in mind, adobe spark effortlessly removes backgrounds without having to outline the desirable parts of the image.
Resize – It can be time-consuming to create the same design multiple times for different platforms in different sizes. With adobe, you can resize your design for any platform like Facebook, YouTube, Instagram, etc. in seconds.
Texts and fonts – Choose from over 18,000 licensed fonts to make your design more appealing and engaging.
Collaboration tools – If you want to share your designs while working on them with your teammates, adobe has got you covered. This way the whole team can be updated in real-time ensuring higher productivity.
Pros and Cons
Pros

Cons

Very user friendly
Various style suggestion options are available
Mobile friendly

Not all templates are free
Limited video content creation capabilities
Can only make 30-second-long videos
Android access does not unlock all features
Platform
Web browsers - Firefox, Chrome, Safari, Microsoft Edge
iPad
iPhone
Android (Limited Features)
Vectr
Do you have no experience as a graphic designer? No worries, Vectr has got you covered. It is a perfect amalgamation of simple and advanced features; to let you grow as a graphic designer gradually and consistently. Alongside the simple features on the dashboard, Vectr also has a separate panel providing advanced features catering to professional designers.
Its main features, like element arrangement gradient, shape tools, pen tools, pathfinders, fills and strokes, and image editing, will let you create beautiful high-resolution logos, presentations, brochures, invitations, and more.
Key Features
Real-time collaboration – No design can be completed without constructive feedback from your teammates. Hence, Vectr allows you to share your design with a real-time view simply by simply sending them the URL.
Real-time chatting – Along with real-time sharing, Vectr also enables real-time chatting while working on your design.
Scaling – Vectr provides excellent scaling options for creating small blur-free logos without losing clarity. Even the small elements of the design can be created with high resolution.
Printing – Produces designs in various formats like SVG, PNG, JPEG, etc.
Pros and Cons
Pros

Cons

WordPress plugin available
Slack integration available
Enables simple and quick collaboration
No learning curves

Requires internet connection at all times
Too many side ads can slow the program
Platform
SVG-Edit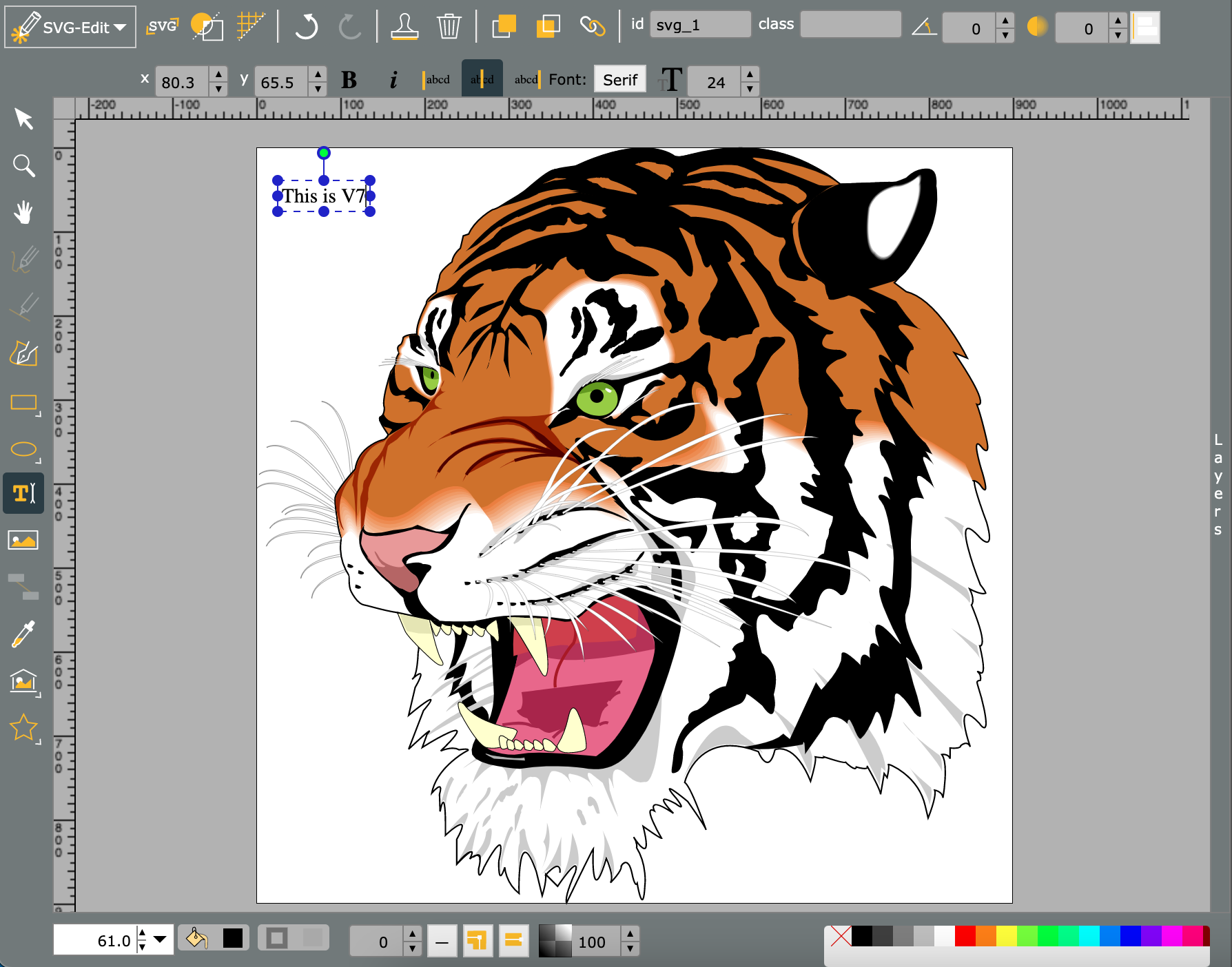 If your priority is creating scalable vector graphic (SVG) images without going through the hassle of downloading software, SVG-Edit is the perfect choice for you. You can simply open it on the web browser and get started with our design. The major components of SVG-Edit are SVG-editor and SVG-canvas, which work perfectly with each other.
Key Features
Shortcuts – If you are a professional graphic designer and have multiple projects to finish in a single day, you need fast graphic designing software. SVG-edit perfectly facilitates speed by offering over 100 keyboard shortcuts. You can switch between various panels and designs simply by pressing a couple of keys.
Picture Library – SVG-edit allows you access to over a million free pictures, infographics, and illustrations through its picture library. These pictures can be easily resized and dragged onto the canvas you are working on.
SVG Support – This graphic designing software uses SVG as the default document format. Every time you import new graphics and images, it will automatically change the format into SVG without you having to do it manually.
Pros and Cons
Pros

Cons

User-friendly interface
Numerous user guides and tutorials are available
Navigation is simple and quick

Only online customer support is available
Can only be used via a web browser, no app is available
Platform
Inkspace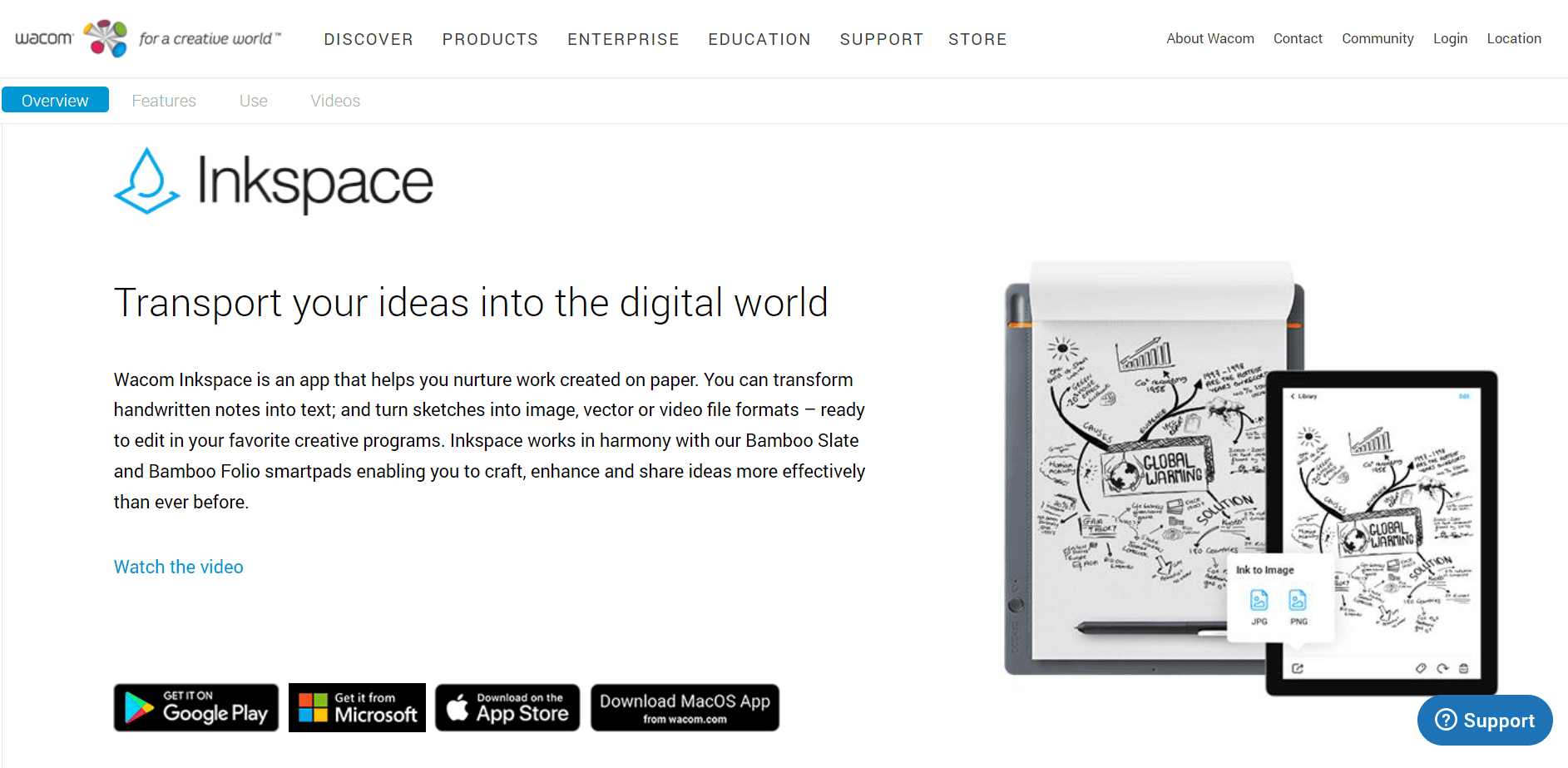 Whether you are a professional graphic designer or just a graphic designing enthusiast, Inkspace is suitable for all. With its powerful drawing tools, flexible compatibility, and interactive text tools, you can create engaging designs quickly and easily.
For the benefit of all, Inkspace offers various tutorials and tips which are information packed. If you are a new user, you have to read a few of these tips, and you are good to go. Unlike other software, it is very community-oriented, offering constant support without additional charges.
Key Features
Node editing – Not all graphic designing software provides node moving tools. With Inkspace, you can use node editing tools to manipulate and edit even the smallest of elements.
Vector managing tools – Inkspace provides numerous highly advanced tools for designing, editing, and converting vectors. Additionally, each of the tools can be used in a separate window to have a chaotic and clutter-free designing process.
Filters and effects – Inkspace offers numerous free filters and effects to play with your designs. You can test all these filters with a simple click.
Object creation – The advanced object creation feature provides extra functionality for drawing tools like pencil, shape, text, and calligraphy. You can embed bitmaps of an object to a design while using these tools through some commands.
Pros and Cons
Pros

Cons

Various extensions and integrations available for expandability
Wide variety of editing tools
Checkerboard background to see transparencies
Great customer care support
Interactive community support is also available

Final design processing is slow
Mac version is slow due to minor bugs
Comes with a little learning curve
Integration with illustrator not smooth




Platform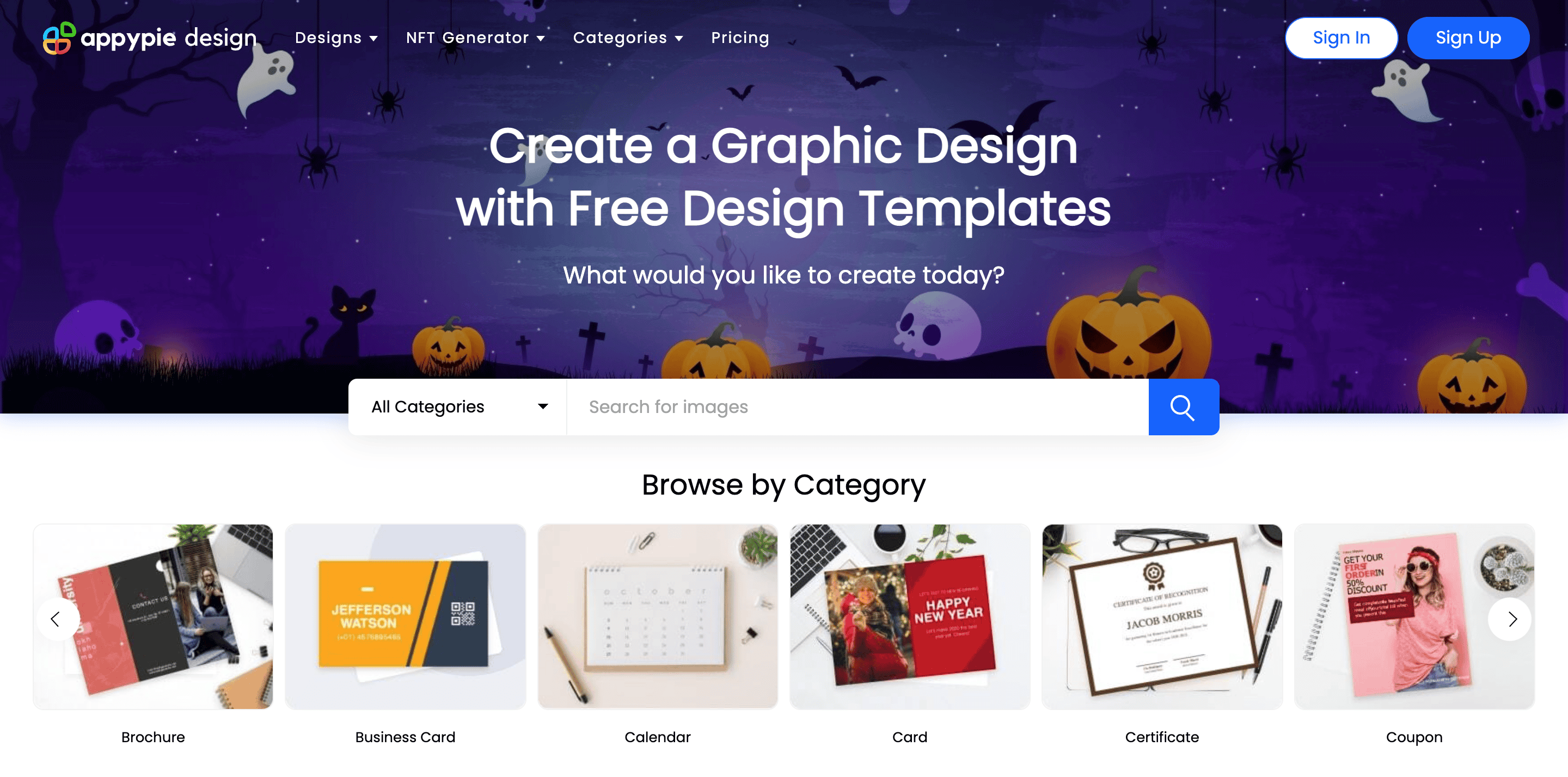 Appy Pie Design is graphic design software that aims to make graphic design easy and accessible for everyone. Therefore, you don't have to be tech-savvy to create impressive images, posts, banners, ads, logo designs, etc. The Appy Pie Design is absolutely free to get started. All you need to do is sign up with us to create visually stunning designs.
It offers enormous templates, stock images, and design elements that are easy to use even for beginners. Bring all your imagination to reality in minutes. You can choose from our 10000+ templates or start from scratch. The choice is yours! Simply drag & drop your templates, images, and vector graphics with no experience required.
Key Features
Powerful Design Tools - Create magnificent digital assets with our potent designing tools that are beginner-friendly and easy to use.
Collaboration Feature - Now, you can connect, collaborate, and share your design project in minutes. Share it with your friends and get your feedback in real time.
Cloud Storage - Appy Pie Design is cloud-based. So, all your design projects will be safe, and you can access them anywhere and on any device worldwide.
10000+ Templates - Starting from scratch is not mandatory anymore. You can select from thousands of ready-made templates available at your fingertips.
Pros and Cons
Pros

Cons

No learning curve
Everything included
Time-saving and effortless

Limited access to free version
Platform
All web browsers
iPhone
Android
Canva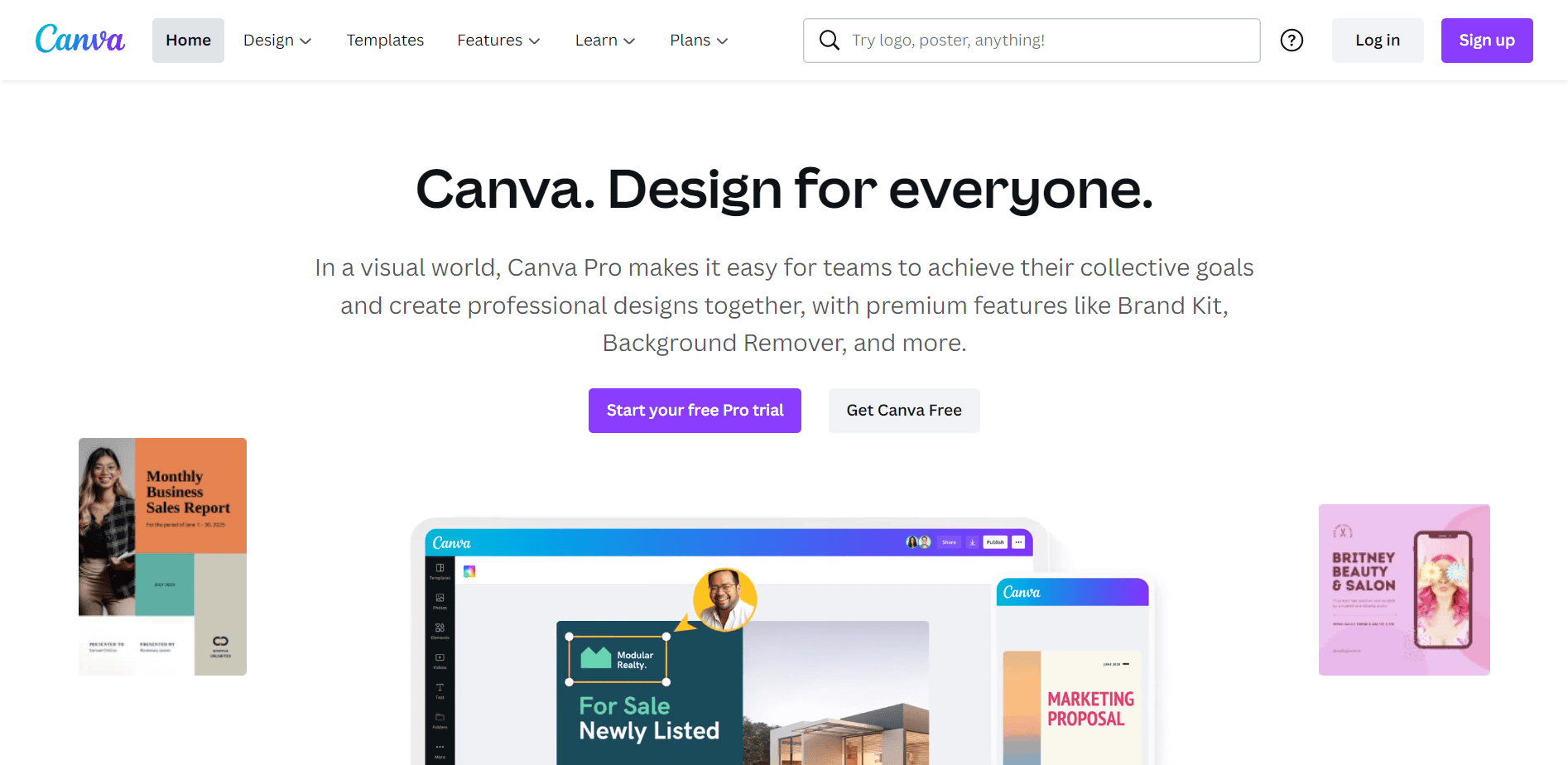 Canva is the most popular free graphics designing software, and rightly so. It is a feature-packed graphic designing tool for both beginners and professionals. With the free version, you can access more than 8,000 free templates, millions of free photos/infographics, and much more.
The pro version and enterprise version are also moderately priced, making it highly affordable. Canva offers various categories like PowerPoint presentations, videos, Facebook posts, Instagram stories, logos, infographics, resumes, high-quality stock photos, and much more to make your work easier.
Key Features
Resize tool – It is a hassle to resize the same design for varying platforms like Twitter, Facebook, Pinterest, etc. Hence, Canva takes care of this by offering the magic resize tool. You don't have to crop or edit the design to fit all platforms manually; all you have to do is use the resize feature.
Font library – Canva has a huge font library ranging from simple and sophisticated to glossy and stylish.
Image animation – If you want to breathe some life into static images, it is possible with Canva. The animation effect will let you animate your pictures through the block, breathe, fade, pop, pan, and many more effects.
Publish – Canva saves you from the hassle of first publishing and saving the finished design in your desired format on your system first and then posting on social media. With the recently added publish feature, you can directly publish and post the design on numerous social media platforms like Pinterest, Facebook, Twitter, Slack, Tumblr, LinkedIn, and Instagram.
Pros and Cons
Pros

Cons

Extremely user friendly
Numerous free template options are available
The customer support offered in numerous languages

Good infographics are reserved for paid versions only
Platform
Krita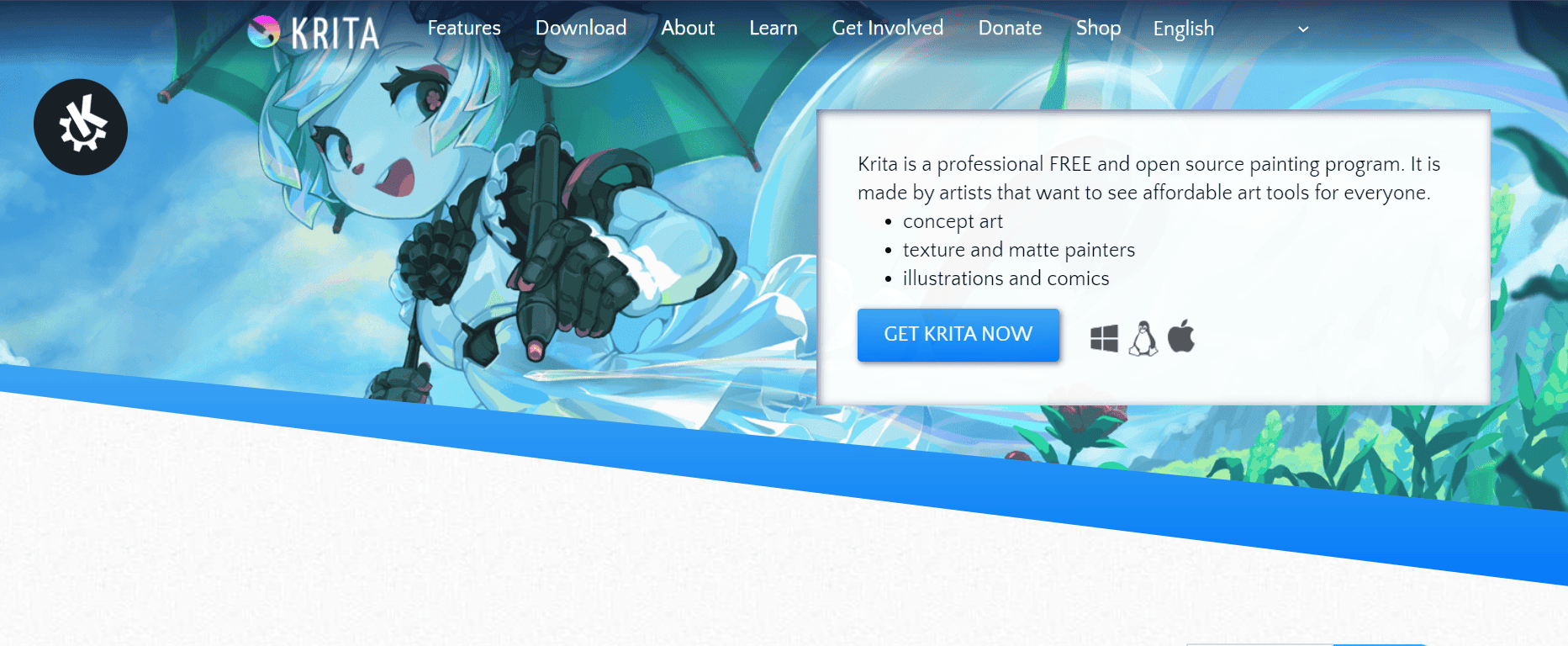 Krita is free and open-source graphic designing and painting software. If you are a professional illustrator, comics, and concept artist, Krita will surely keep you satisfied. Unlike any other graphic designing software, Krita offers various simulations like watercolor, charcoal, pastel, chalk, oil paint, etc., to give your painting any effect you want.
The various brush tools available will allow you to unleash your creative potential. Krita also offers numerous free templates and layer designs to give you a diverse perspective.
Key Features
Brushes – Krita comes with over 100 preloaded brushes, which can be paired with numerous animation effects to give your painting or design a fresh and unique look.
Brush stabilizer – Because Krita focuses on painting and drawing, it offers a brush stabilizer tool. You do not have to worry about shaky hands, as adding a stabilizer to your brush can help you smoothen out your strokes.
PSD support – Even an advanced designing software like Adobe Photoshop does not support PSD files but Krita does.
Knowledge Base – Krita understands that finding tutorials and support through general internet browsing can be time-consuming and frustrating. Hence, Krita offers its user community numerous kinds of training materials to help you adapt to it quickly and seamlessly.
Python scripting – Krita offers a powerful API enabling you to create your widgets to extend its functionality. Numerous plugins are already installed for your reference.
Pros and Cons
Pros

Cons

A vast array of brushes
Great animation capabilities
Quick navigation through pop up menu
Quick and reliable customer support
Frequent and useful updates

Not many keyboard shortcuts are available
It comes with a bit of a learning curve
Has some pen detection and pressure sensitivity issues
Slow processing
Platform
Blender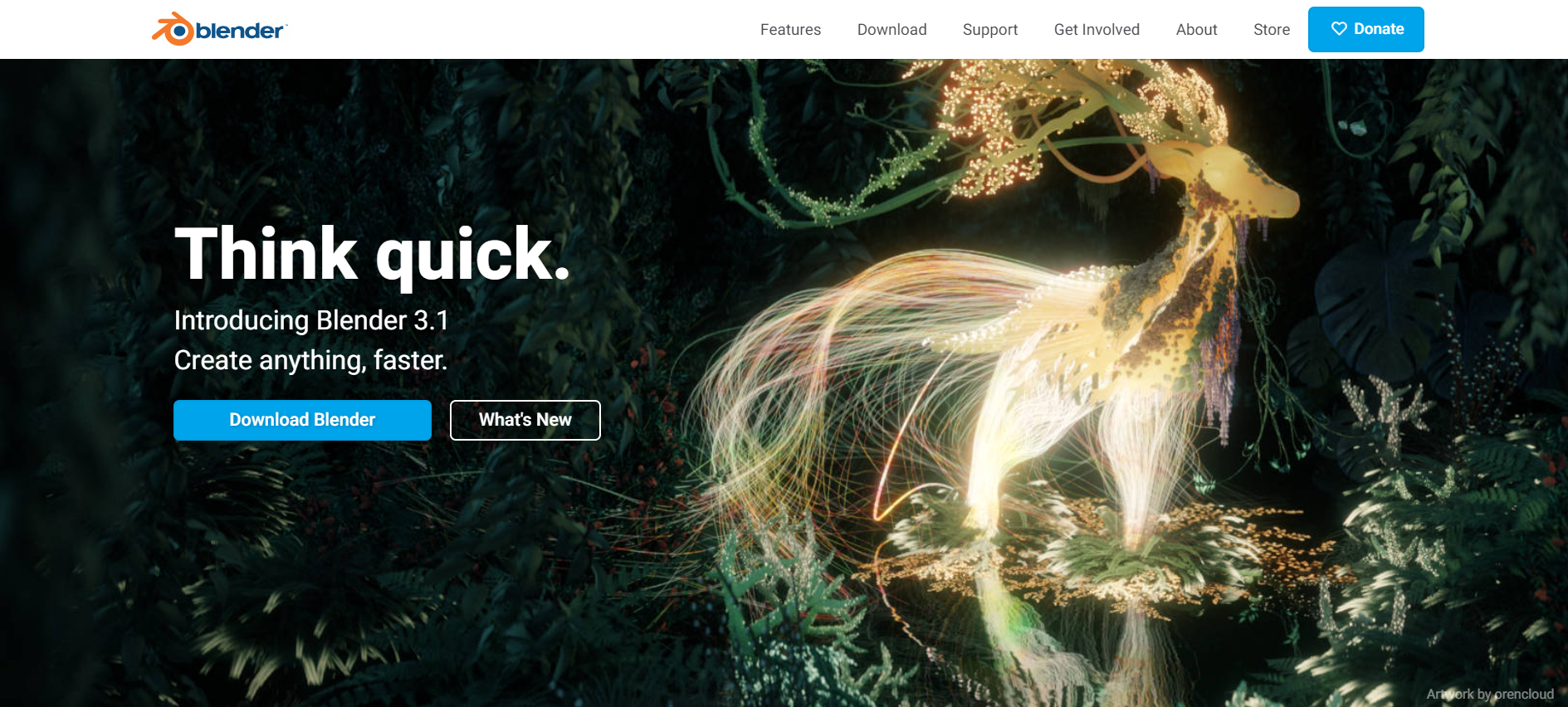 If you are into rendering, composting, video editing, simulation, animation, and modeling, Blender is one of the best graphic design software. It offers numerous tools to create 3-D models from scratch and then edit them afterward.
Blender has a steep learning curve, but it will be a smooth ride once you figure your way around. You can use the various guides and tutorials to fully grasp the software's functionality and its advanced tools.
Key Features
Animation and rigging – You can use the animation and rigging tool to breathe some life into your still characters. It will let you do everything from simple keyframing to complicated walk cycles.
Simulation – You can play around with various simulation effects to make your drawings more creative, like smoke, fire, ice, snow, fluids, etc.
Grease Pencil Object – The grease pencil tool allows you to draw in the 3D space. This tool comes in very handy if you frequently make motion graphics.
VFX – This graphic designing software comes with a built-in compositor which allows you to post-produce your rendered designs without leaving blenders behind.
Pros and Cons
Pros

Cons

Regular updates to improve functionality
Various exporting file formats are available
Shortcuts are simple and easy to use
The sculpting tool is highly efficient
Great customer support
Supportive documentation process

Viewport has glitchy and slow performance
High detailed projects make it lag sometimes
The user interface has a bit of a learning curve




Platform
Lunacy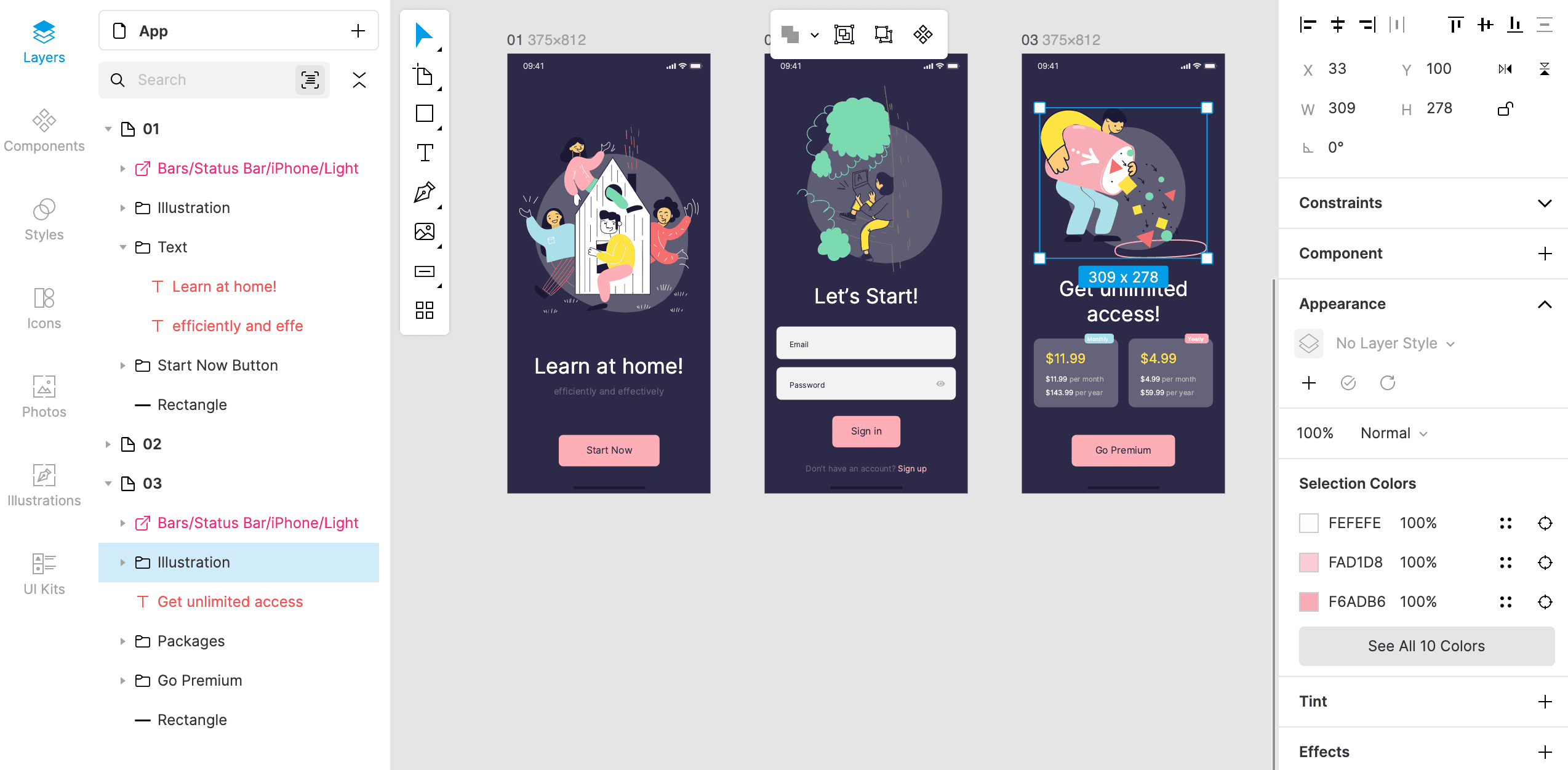 Are you a UI Beginner? Lunacy is software that perfectly fits people with no design skills. However, you can still create inspiring designs of a user interface here. As a rule, when you are extremely interested in design, you want to learn and practice it everywhere. And that is where Lunacy can help. It works online and offline, so you can create your designs everywhere.

Lunacy has a huge library of building-in graphics, including photos, illustrations, icons, and many more. Furthermore, it offers AI-powered photo editing tools like Background Remover, Image Upscaler, and Avatar Generator.
Key Features
Built-in graphics – You don't have to surf the entire Internet to find photos, graphics or icons with Lunacy. The software already contains all these things, so you can have more time for your inspiration.
Available in 21 languages – Lunacy is available in English, Chinese, Spanish, and 18 languages more.
Real-time design – Along with individual work, you can share a document with up to 100 teammates and edit the document together. You can write comments, exchange feedback or look at what your teammates do along with editing.
Sketch format – Lunacy uses .sketch format, which is why it is easy to import files from Lunacy to another popular vector graphic design software.
Pros and Cons
Pros

Cons

Free to use
Online and offline mode
Fast and smooth work
Available for macOS, Windows, and Linux

No built-in templates
Not all the graphics are free




Platform
Web browser
Windows
Mac
Linux
Conclusion
We have tried to make a comprehensive list of the best free graphic designing software for you, but the final decision remains in your hand. Picking the right graphic designer software depends on your requirements and some compromises you are ready to make.
Hence, we advise you to do more thorough research before finalizing on graphic design software. We wish you luck for the same.