Fields are the fundamental elements of Xpert Custom Fields. Here you can create and manage a variety of custom fields.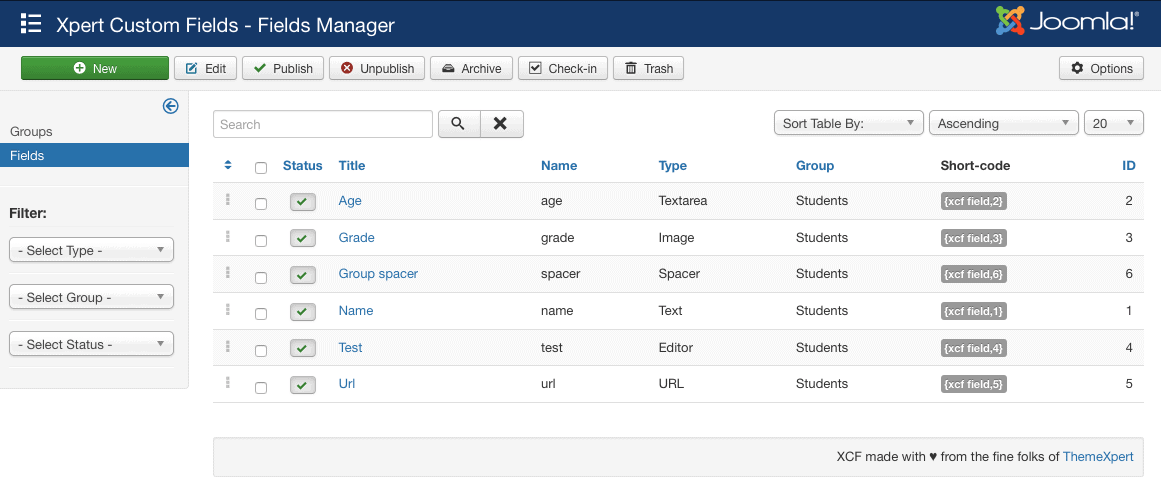 The Fields page gives you quick editorial access to your fields. This is where you can access a field's editor, delete fields, create new fields, and additional information of fields at a glance.
Adding New Fields
Buttons line on the top of the Fields administrative panel. New buttons initiate the creation of new fields.
Field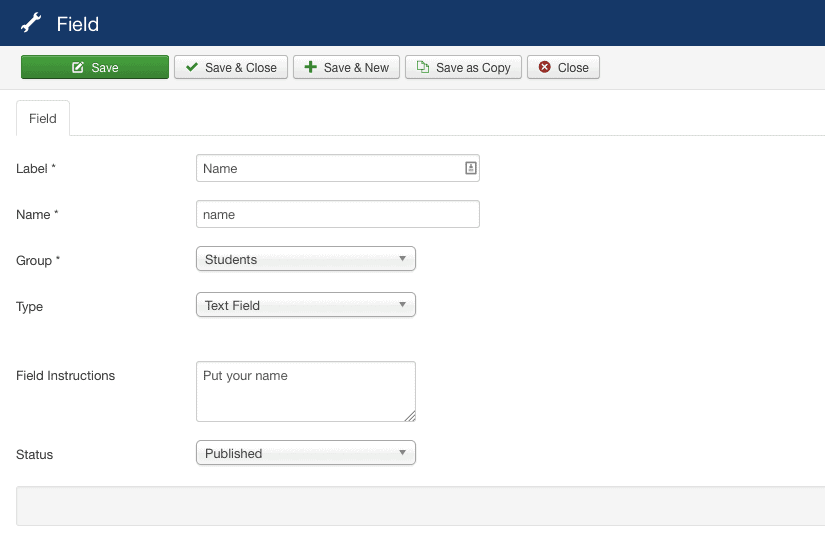 | Options | Description |
| --- | --- |
| Label | The field label is visible when entering content but is not used by the API, use capitals and spaces for a human friendly field label. |
| Name | The field name is the computer version which should be lowercase and have no spaces / special characters. This name is used in your templates to retrieve the content / data. |
| Group | Goup will help you to organize the fields. |
| Type | Type will define what kind of data this field going to handle and output. |
| Field Instruction | Provide istruction for this field and it will visible as tooltop. |
| Status | Publishing status of this field |
Fields Type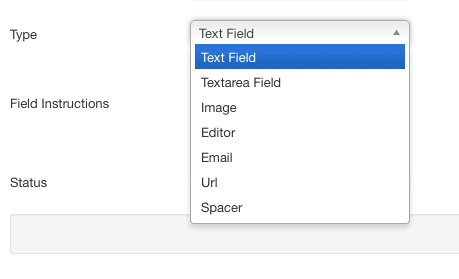 | Options | Description |
| --- | --- |
| Text | The Text field creates a simple text input. This field is useful to store single string values. |
| Textarea | The Textarea field creates a simple textarea. This field is useful to store simple paragraphs of text to use in your theme. |
| Image | The Image field allows an image to be uploaded and selected. This field makes us of the native Joomla! media popup to handle the upload and selection process. |
| Editor | The Editor field loads default editor from Global Configuration |
| Email | The Email field is a text field of HTML5 with email validation. |
| Url | The Url field is a text field of HTML5 with URL validation |
| Spacer | The Spacer field is for simple spacing between fields. |
These fields are available on both free and pro version. We are working on more fields that going to available on pro version only.