The next major version of WordPress is knocking at the door. WordPress 4.6 is in full swing development mode, and the core development team have set the target release for August 16, 2016.
The final planned beta version of WordPress 4.6 Beta 4 is available now.
As it is the beta version, no more new features will be added before the final release of WordPress 4.6. Even some of the existing features in beta may not come with the final release. We'll only know that after the final version has released.
This software is still in development, that is why the WordPress team recommended you not to try it on a production site, but you can consider this beta version to setting up a test site just to play with the new version.
WordPress team also recommended trying the WordPress Beta Tester Plugin while test WordPress 4.6.
The new version will be more stable and bug fixed. It is coming with better user management along with better post management and better security.
What's New in WordPress 4.6?
Shiny Updates
When a user installed a new plugin or a new theme or update anyone, they usually saw a progress screen. It is nothing but one more page to load.
WordPress 4.6 will come with Shiny Updates. Users can now install and update themes and plugins without being redirect to the progress screen.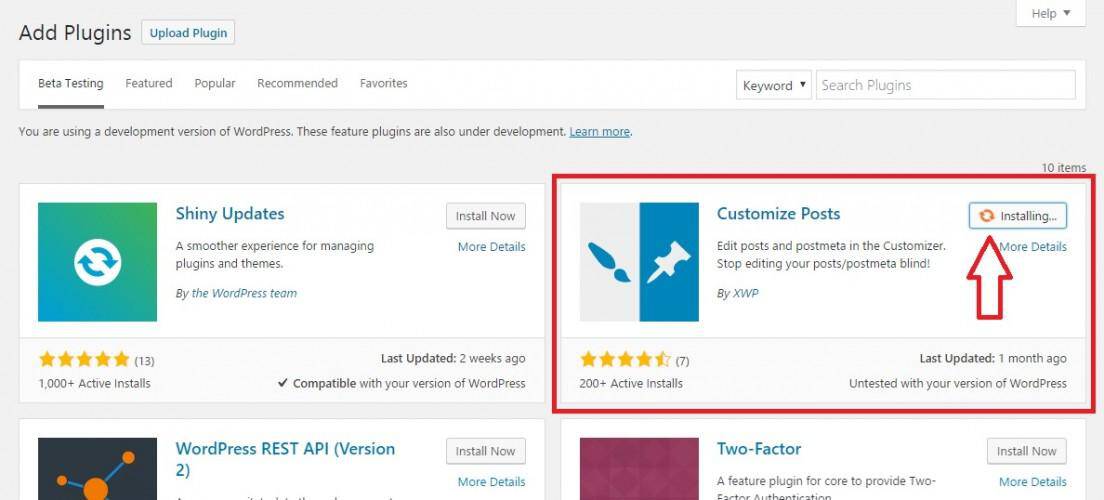 Native System Fonts in WordPress Admin Area
From the beginning, WordPress using Open Sans font in WordPress admin area that looks accordance across different devices and platforms.
But, this required WordPress to rely on an external third party source. As a result, it takes longer load time of admin area and slower processing.
In WordPress 4.6, the admin area will revert to using the system fonts. That means the WordPress admin panel may look different depending on the platform.
Editor Improvements in 4.6
WordPress 4.6 aims to improve post editing experience. This version will bring improvements to the Autosave Feature and Highlighting Broken Links.
Autosave Feature:
In previous, when users disable revisions, it also affected restoring posts from autosave feature.
With WordPress 4.6, users can restore WordPress posts from browser backups and autosave even when the revisions have been disabling.
Highlighting Broken Links:
If you're using the visual editor for writing posts, any broken link entered will be emphasized.
When you add a link, WordPress will immediately examine it that if the link is valid or not. If the link is not valid or broken, then you'll see the linked text in the red color border.
It will be the usual blue if the link is sounded correct.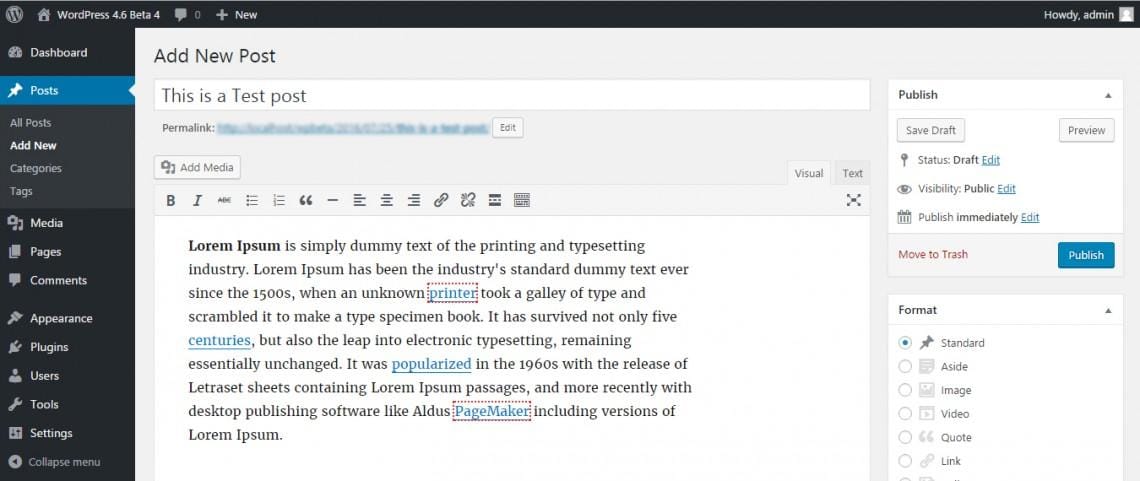 Under the Hood Improvements
WordPress 4.6 will also bring some exciting new improvements to the WordPress core, but these are mainly intended for the developers.
Standardized Metadata Registration
WordPress 4.6 will bring register_meta() function for the registration of meta keys. This function works similar to register_post_type() function.
It will allow developers to use a standardized way to work with metadata stored with users, posts, comment, or terms object types. (#35658)
New WP_Post_Type Class
WordPress 4.6 will introduce a new class named WP_Post_Type.
It changes $wp_post_types to an array that provides methods to handle post type supports, rewrites rules, hooks, meta boxes, and taxonomies. (#36217)
New WP_Term_Query Class
Similar to WP_Query, WP_Comment_Query, and WP_User_Query classes WP_Term_Query will provide a better formation for generating term queries in WordPress 4.6. (#35381)
WP_Site_Query and WP_Network_Query Classes
The new WP_Site_Query class and WP_Network_Query class allow querying sites for WordPress multisite networks with lazy loading. (#35791, #32504)
Conclusion
Hope you have found a clear idea about what's coming in WordPress 4.6 through this article.
What new features of WordPress 4.6 are you excited about?
Let us know through the comment section in below.