Top 25 WordPress Slider Plugins of 2015
Slider is the easiest way to show your website expertise and one of the most convenient procedure to catch your visitors mind. Like a tray that is full of food. Slider is providing you a perfect path to display your different kinds of images, featured post and eye-catching content as well. It's totally depends on the first impression or how it will be. Yet discovering a delightful and simple to use slider plugin isn't found yourself in a party center, especially if you're after a free alternative.
Before getting into the core, let us visualize a situation. Finding a beautiful slider is not an easy task to do. In the wordpress directory there's huge mess of slider plugin but I never want you to fall in that circle and waste your precious time to search. That's why I've arranged some of the best 5 star WordPress slider plugins. Hope you find helpful.
01. Meta Slider
Present world believes in Variety and Meta Slider is doing the same thing. It's an easy to use plugin that lets you to choose your perfect user friendly slider between four jQuery sliders such as Nivo Slider, Coin Slider, Flex Slider 2, and Responsive Slides. Each and every slider has different way to show your contents. If you're fall in love with this plugin, you can go pro for adding extra features with cash.
02.Soliloquy lite
Performance is the main option to bring a new life to a product. In that way Soliloquy is another unbeatable WordPress slider plugin ever. Soliloquy has already made his place in the core of developers and clients' heart with its speed, responsiveness and ease of use. The free version of this popular Soliloquy slider plugin is called Soliloquy Lite. Don't worry this version is completely super-fast and functional as well as super simple to set up. Soliloquy helps you to bring your site in the top of search engine's term because it allows you to add Meta data for each slide and make this entirely a SEO friendly content.
03. LenSlider
LenSlider relieves you from the hassle of writing code of your own. It's a slider plugin based on WordPress for creating visual sliders, carousels or slideshows. Comes with simple Uploading style, just add posts/pages or static php-code in your template files and Use a shortcode to integrate any slider you made. Here each and every slider is based on the skins of LenSlider, and skins have extra blushing effects based on jQuery and CSS3. So check this out.
04. Ultimate responsive image slider
If you're a professional blogger or bootstrapping with your writing passion, Ultimate responsive image slider one of the easiest solution for you. This slider is basically developed for WordPress blog users. It let you to configure each slider settings and publishes unlimited sliders on your blog. You can also add infinite image slides within a single slider using section of multiple image uploaded. Using this shortcode given on its WordPress Plugin Repository, you can publish images in any Page or Post in your wordpress sites.
05. Huge-IT Slider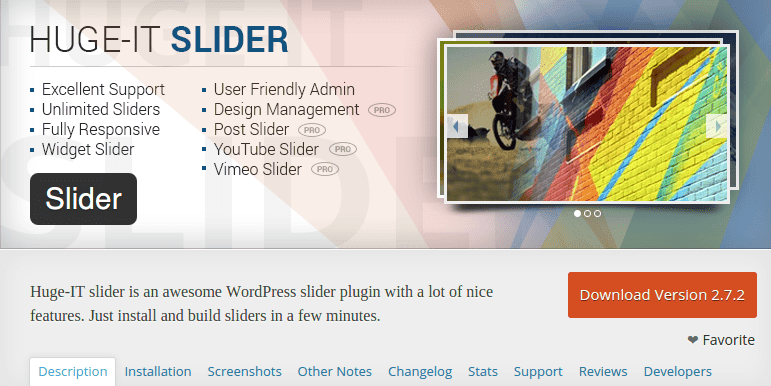 Tired of making custom sliders! Huge-IT Slider will come to an aid in this situation. Because it makes a quickest and easiest way to add custom sliders to the WordPress websites and that can be happen both to templates as well as posts/pages. It comes with lots of amazing things to make your slider more livable. Huge-IT Slider allows you to publish unlimited amount of images with their titles and descriptions. Its auto generated shortcodes makes easier for adding custom image for the users as well as send it to the custom location with Full Design Management. Its smart Support center will respond upon your request within 24 hours.
06. Captain Slider
Feel yourself as a captain reason is that this Slider offers a basic far reaching functionality as far as slider plugins go. It's unique part, allowing you to show a minimalistic slider on any page or post using given shortcode. So you can show every material of your website's in different page.
Although it's not exactly clear what the shortcode is. So after you install this plugin then check out the WordPress plugin's Repository page. Or if you get stuck as well as need a hand.
07. SlideDeck 2
Depending on the present status of social networking sites, SlideDeck 2 slider plugin lets you to create content sliders effortlessly. It connects you to a variety of content sources such as YouTube, Flickr, WordPress posts and Pinterest. And it's without coding required option help you to create gorgeous, dynamic sliders in a few clicks. There is little difference in lite version. In the lite version you cannot access in Facebook and NextGEN Gallery. So you have to go pro for more options.
08. Lazy Carosel
Use one and get one free, yeah 'm talking about Lazy Carosel. In this slider plugin you will get carousel and slider both option to make a combination. Or you can either use this plugin carousel or slider.In this plugin you will get enough advantage during embedded lazy carousel in a single content with using a shortcode. You can use this shortcode wherever you want and even in the theme files.
09. WOW Slider
WOW slider is quite advance slider among all. Although there is 40000+ downloads onwards in the wordpress respiratory. WOW slider filled with a point-and-click wizard to create extraordinary image slideshow within a blink of eye. But there is single problem occurring with this slider that for each and every effect you need to download manually. So without having any kind of coding knowledge you can use this plugin perfectly. It's great for its proper responsiveness, fully accessible in the JavaScript file of the CSS slider. WOW slider can be used in all browsers, search engine facility and touch swipe support. So add stunning image slider to your WordPress blog and get much traffic!
10. MaxGalleria
If you want to play with your WordPress galleries, you must try MaxGalleria. It gives you all kinds of essentials and also let you to pick and choose from its enhanced functionality. MaxGalleria provides you a huge variety of viewing experience and no matter about the device for watch galleries. If you have any problem with NextGEN galleries, you can turn them into MaxGalleria within few clicks. Depending on the developer's mind, MaxGalleria help you to find out countless actions and filters as well as that are well enough to make your heart sing.
11. EasyRotator
EasyRotator provides users a beautiful, responsive photo rotators as well as sliders to your WordPress site within seconds. Easy to use drag and drop system and here you just specify an aspect ratio and get responsive theme support as well. You can add rotator widgets to your theme, posts and pages individually. Now upload photos whatever or wherever you need to show.
12. Responsive Photo Gallery
For responsive websites, you need responsive slider. In this case Responsive Photo Gallery will be the best option for you. It's based on Twitter Bootstrap framework. Thinking about your image quantity and quality, you can upload unlimited images. Lots of handy feature are ready to enhance your slider with providing fade animation, preview of light box image as well as two gallery layouts with various fonts. According to screen resolution, here you can use isotope effect provided by the Responsive Photo Gallery. Using given shortcode in wordpress respiratory page and use them into any Page or Post in your WordPress sites and publish your desired image or photo gallery.
13. Jssor Slider
Bring a unique outlook in your wordpress slider with Jssor Slider. It enables your slideshow fast and easy way. It includes 390+ caption effects, 360+ slideshow effects, 18+ arrow skins, 16+ bullet skins and sharp Auto detect vertical/horizontal drag. You can bring multiple sliders in one page with latest Cross browser support. You just simply use the provided shortcode given in the plugin page and easily embed slideshows in your blog.
14. Cyclone Slider 2
Manage and Create sliders with easy way with Cyclone Slider 2. Casual users and developers both are getting advantage simultaneously form this plugin. An intuitive user interface and easy-to-use slider plugin built for making images with custom post for the slider, fields to store settings as well as media uploader. It provides a complete template system which allows both developers and designers to create a simple outlook and behavior of the slider as well.
15. Easy WordPress Parallax Slider
With Easy WordPress Parallax Slider, you can come up with different settings for each and every slider. You can show the slideshow anywhere using the shortcode because of its superb supportive shortcode environment. In this plugin you can set numerable setting of your own such as setting the slide change the interval, text colors, image position, Customize heading, content, link and image, z-index customization and lots more.
16. Responsive Full Width Background Slider
Give your wordpress site an intuitive interface with Full Width Background Slider, Don't worry it's totally responsive. It will give you an attractive full screen slide show in the background of your site. This plugin is flooded with user friendly features and only enough to give you a blow. Here you can set everything like ins and outs of this slider.
17. Smooth Slider
Smooth Slider is one of the basic WordPress slider plugin but is able to add nice carousel within few time. With lots of handy features like dynamic slideshow for showing featured Posts, Pages, Media Images as well as Custom Post. You will get a live preview on your wordpress admin panel and before implementation you can customize this slider. Given shortcodes in the plugin page and use this Smooth Slider anywhere in the site.
18. Easing Slider
Turn your show in a lightweight and simple way with Easing Slider. It's enabling this plugin to create beautiful and multiple sliders rapidly and professionally as well. This plugin is integrated with the new workflow of WordPress Media Library and offers a enhanced media management experience in your slider. You easily and instantly recognize the admin interface. There's an abundance opportunity for creating or modifications custom plugin using this WordPress Action and Filter APIs. Build your own external functionality requiring just a few clicks.
19. Nemus slider
Nemus slider helps you to build custom slides from their videos, HTML, posts, as well as images. It's completely integrated with Instagram and Flickr, changeable interface & button colors and lots more features. It is fairly easy to use and comes with huge multiple effects as well as transitions.
20. Accordion Slider
Smart works great for smart traffic, that's why Accordion Slider comes to give your wordpress site a quick loading surface. Here JavaScript and CSS files are loaded only in pages detecting accordion sliders in place. It allows you to create fully responsive and mobile-friendly slider. If you use it in your different website, you will get multi-site support from this plugin developer.
21. WPB Woocommerce Product slider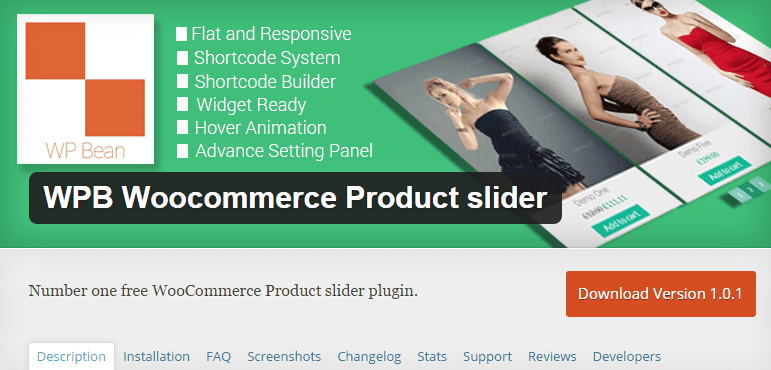 The WPB WooCommerce Product slider is most popular & best free WooCommerce product slider plugin. We have thousands of active install of this plugin. If you are thinking to build a shopping site using WooCommerce, then WPB WooCommerce Product slider plugin is most required to you for taking your conversion rate to the next level.
Conclusion
We've just curated the list for your convenient, If you have any other option slider plugin to suggest, please add in comment below.