It's been a month you and our relationship just turned 4 years old. 2014 is really a memorable year, we are now at well-furnished office from a bedroom, touched milestone of 56K family members, gained half century in templates and have excellent and talented people in our team. Yes, in the mid 2014. ThemeXpert is looking healthy enough, with strong muscle and still six pack abs coming out.
Todays is fact that i am writing for, Our whole team pass bundle of minutes every day, performing brainstorming to provide you the most admirable service. Even more better and quick support to touch new milestones. All in all, our whole team are hungry to deliver you heap of happiness. To ensure to do so, we are going to make major changes in our pricing plan.
[New] Single Template Purchase
From the inception of ThemeXpert, we seldom changes our pricing and subscription model. The last major change was made on June 2013, In this turn we have tweaked our club pricing model to ensure your easy entrance and renewal with huge validity. Everyday we received numerous request for single template purchase and often people have difficulties to understand the club pricing model. So we have decided to enable single template purchase option. Here is the pricing model : 
| | |
| --- | --- |
| Template Price | $29-$49(based on design and features) |
| Download & Updates | 12 months |
| Domain Usages | Unlimited |
| Copyright Removal | Yes |
| Support | 12 months |
Single template purchase is launched to increase our profitability and save our times. we believe that profitability lead us to sustainable company in days to come. It will really strengthen our longevity.
Price Updates on Club Membership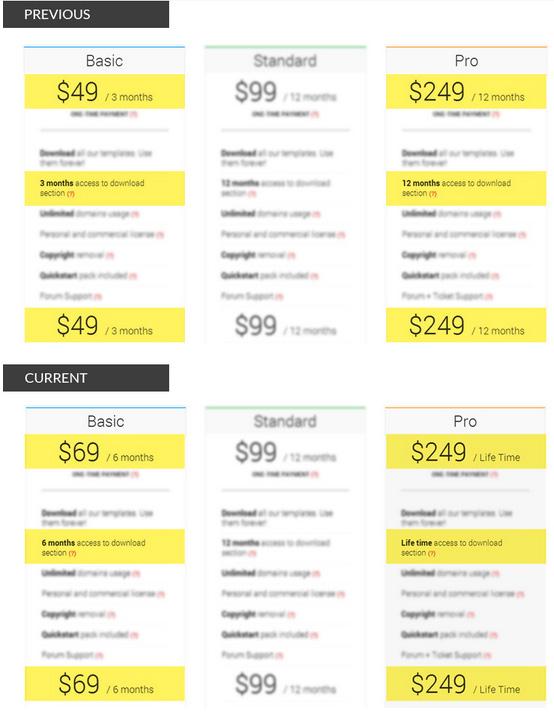 Our basic subscription price was the cheapest in Joomla template industry. As you know our whole 56k+ family members are Joomla developers or interested in Joomla. Basically developers want to associate with company with whom they can work for a long period. Even many of you are in ThemeXpert selecting the cheapest package to judge our product and support. In this circumstance, we already have the cheapest package "Single Template Subscription". So, we doubled the validity of basic subscription but not the price.
[New] Life time validity for Pro subscription
Yes, you are going to get whole life subscription. This is the news for those guys, who always send us email to give them life time subscription. And Our maximum Pro members are Joomla developers or running their firm for website development with our templates. We are really grateful that you have given us such opportunity. So, we decided to our pro members lifetime subscription and ensure lifetime happiness.
Why This Changes?
After 4 years later, you guys cannot deny, you earn a lot from our template except more hiccups. Still we are striving to provide the best service ever. We've grown from one man army to 7 members team. All of them are in hectic to creating innovative products and service as well. Have a look on considerations & reasoning in making these changes :
Frankly speaking, the changes is about money
I think a faint question may poking in your curiosity. 'What we will do with this profit and time ?' From our perspective we have two areas of greater investment. 1) Hire the best template designers or developers, pay them handsome and allow them to spend enough time to experiment; and 2) Hire proficient support members to answer all incoming support questions and ticket as well.
What happened to existing users
The users have made purchases of membership plan before this declaration will remain grandfathered for our new pricing model with all previous facilities.
Basic plan subscribers will have each and every advantage, they experienced before. Even they can get forum supports for all our templates as usual and enjoy download access to all our templates until their membership expire.
I think, Standard and Pro subscribes are thinking, we circled their previous opportunity. The answer is 'No', you will have all the opportunities, as you were having before.
Conclusion
As a customer first company we always strive hard to provide best experience of our product and support. Feel free to comment below and share your thought to us, even ask us to explain for further clarification. We want to make everything clear as you see your face in the mirror :)
New pricing will going to take effect from next week, happy clubbing!