Our main goal of 2014 is to improve our product quality and support experience. We are striving here to provide possibly the best support but we know, we are lagging behind sometimes. To improve our support quality, we've taken some decisions which will benefit you. Before talking about upcoming changes lets see the current support workflow: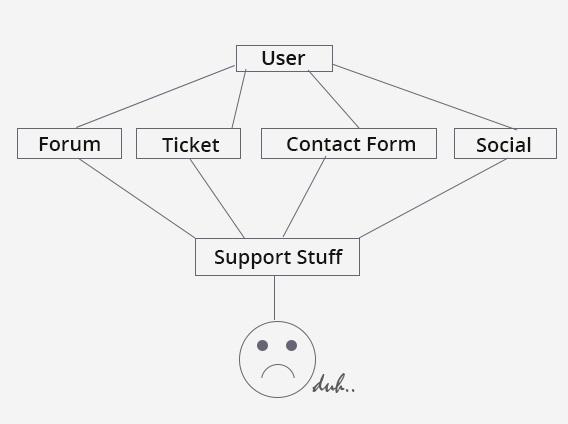 As you can see we are using too many channels to provide support and it's very difficult for us to focus on every channels with limited resources. So, we decided to shut down all the different channels except forum.
This decision will help us to focus only and only on forum to ensure excellent support. We are using question/answer based forum so others will be benefited from our support. You can give us your site access details through forum and it's only visible to our support team.
Forum Categorization:
We decided to use tag based forum system ended up that was a bad decision, most people love to select forum instead of adding tag. So we'll create all different forums and move relevant topic to it.
Documentation:
We are giving our 100% effort on documentation and integrating search for documentation and forum. As you know we already hired a technical writer and he is busy creating video documentations and writings. We are hoping to launch our new integrated documentation by the end of March.
Knowledgbase:
We get you covered, we are putting together all the questions and its answer in our knowledgebase and it will be integrated with the search.
Live Chat Support:
We are trying our best to be online for live support but its limited to only non-technical support. We are hiring more support people and once we hired and trained them we'll add them for your support. 
You can still reach us through our contact form and ask question on our forum.
Last but not least, we always welcome your suggestion. If you have anything in mind please let us know.