Expose the framework behind all our Premium and Free Joomla templates has just got better! As part of our continuous development this time we look at the menu system and take it to a new level. We re-written the menu system from scratch and now its completely HTML/CSS3 powered.

Mega Menu
Not only we've re-written it from scratch we've added some cool dropdown animation which you can select for dropdown and all there sublevel. Thanks to the animate.css for there awesome creation. We also added option for rendering level, now you can select the number of level menu being render.
Split Menu
We've taken split me to a whole new level. Now you can select module position where the subnav will visible. Now you can set a menu title like module title and the menu comes with 2 orientation Horizontal/Vertical.
Off Canvas Menu
Here come the new child in the family. You know that nifty little menu hidden under the main Facebook app feed? Or the one that lives underneath the Path feed that reveals your friends list. We adapted this menu system for Expose so that you can use them today! Thanks to UIKit for their clean and tidy off-canvas plugin.
Need a demo? Head over to Expose demo site and resize the browser :)
Icon Menu
We've added another cool feature in the menu is Icon Menu. You will see a new option Menu Icon in the Expose Mega Menu settings. Write any icon name provided by Fontawesome and it will visible inside menu item.

Opt-out Fancy Menu and Dropline Menu
We removed Fancy menu from core and we've plan to bring it back in near feature with more feature and flexibility. We also decided to remove Dropline menu from core as Mega menu has all the feature it needed.
Icon in Module Title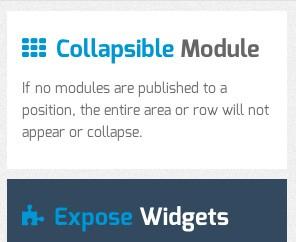 Now you can load icon font in module title. Just write the icon name provided by FontAwesome in module class suffix box and you are done!.
Others changes
Menu codes are fully converted to LESS and now its extremely easy to change the menu style. Everything is now defined in variable and we are using hooks, so you don't need to remeber the menu selector!
Minor but Significant Change in Framework
FontAwesome updated to 3.2.1

Removed all legacy codes

Dropped ie6 Warning widget

Removed all old jquery version and added latest version of 1.8.x series

All PHP error fix

Equal Height plugin loading fix
Flat and Thin Base Template
We updated Expose base template with more flat look and feel, new typography and try to make it image less.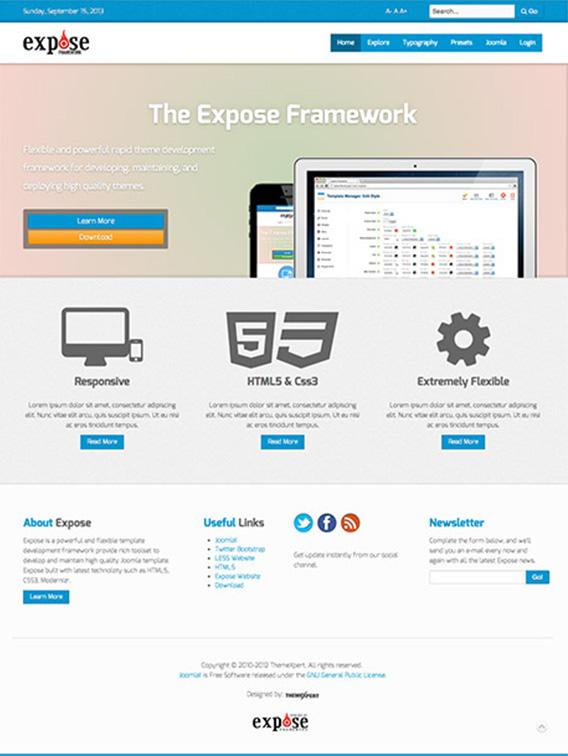 We are going to roll out an update of all our templates with this latest features, Hold tight.