Its been 4 months we released Expose 3. One month later we have set a ambitious milestone for Expose 4 and started development. Since then it took 3 month to make the framework stable and release. Today we are very happy and proud to present the brand new version of Expose 4!
We've implemented a tons of new features and touched almost all files in the framework and template. Major enhancement of this version are Responsive layout, HTML5 based override, Less compiler, new front-end template and some new cool widgets. Please read the full post to know more about new features and enhancement of this version.
New Features!
Responsive layout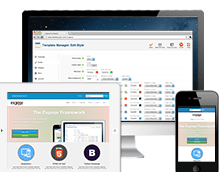 Screens are getting bigger and smartphone/tablet users has grown exponentially. Responsive layout is the tricks to make everyone happy and fit the website on every size. Expose 4 is fully responsive and utilize the Twitter Bootstrap grid system. Check here to learn more about our implementation process.
HTML5 and CSS3

HTML5 is future and CSS3 is very good replacement of some javascript animation and transition. All core components and modules are now override with HTML5 layout. Special thanks to Seth Warburton for his wonderful One web template.
LESS compiler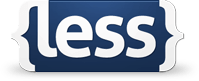 Expose 4 comes with buil-in PHP less compiler which will compile all your LESS file to a CSS file. We cache the primary compiled file and compile again once the file get changed, Live GREEN!
Tab & Accordion Built-in
Expose 4 comes with a unique feature which turn your module position to tab/accordion layout. You can select which module position will be tab styled from layout tab. Learn more about it from our Documentation
New Social Widget
We first use social widget on our premium template Matheno and merged the social widget into core. Now you can add Facebook, Twitter and Rss icon anywhere in your site.
New font re-sizer and word formate widget
We've implemented 2 more new widget for accessibility. Font resizer will allow your visitor to increase or decrease the font size and word formate will break the word into pieces for better styling.
Bundle installer

From our initial release we observed user often forgot to install the system plugin and activate it, sometime the forgot to install the framework too. As a result website won't show up and it lead them to frustration. So we decided to make a bundle installer which includes the default Expose template for J2.5 and J3.0 + Framework + Associated Plugins. From now you don't have to worry about the installation and activation of dependancies.
Brand new base template!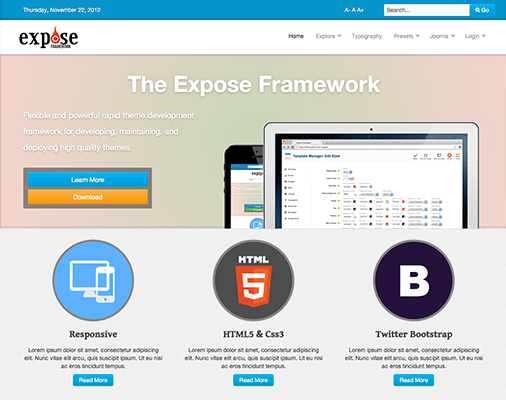 Not only the framework we updated the base template with modern look and feel. It pretty much a FREEMIUM template has all premium facility but FREE! Expose base template can be used as a skeleton of your next project/template and all code are commented in stylesheet.
Enhancement
All widgets are updated for new Expose 4 code base
All JS library updated to there latest version
Twitter Bootstrap updated to 2.2.1
Typography css update
All core css files updated to match with Expose 4
Joomla 2.5 + 3.0
Expose 4 is fully compatible with Joomla 2.5, 3.0 and all upcoming version of Joomla!
What about the old template?
We've already release 3 template base on Expose 4. Crisp, StreamX and Maximus are built on top of it. We also upgraded all our 2012 template and we'll roll one by one in coming weeks.
Discount time!
Enjoy 25% Discount on Black Friday and Cyber Monday with brand new Expose4. Use coupon code XPERTGIFT25 on checkout. This coupon will valid until 26th November.