Ashiqul Islam is a lawyer by profession and shared his story of making website for his law-firm.
Let me say something about myself, if you do not wish to read, you can move to the next headline of this article, but I promise you will not be bored.
I am a Lawyer, and I know how to draft, read and understand even the most complicated version of a document in the world. I mean that is what we do; it is an easy-peasy for all of my kinds.
FMAssociates Story
However, my knowledge is very limited when it comes to building a website. Based on the facts as mentioned above of my life, I realized that even the most ordinary man has the solution to all sort of extraordinary problems, all that is required now is to go "Search it online" and feed your brain for next couple of days.
I was stuck with a similar problem, I wanted to build a website for the law firm I work, that is for a simple reason, my farm wanted to generate business online. We wanted people to find us whenever they are searching for lawyers. So, we have decided to build a website.
At the beginning it felt like I was indulged into something too much ambitious, it appeared to me like a rocket science.
WordPress vs Joomla. Which one to pick?
I slowly got myself familiar with Wordpress and Joomla; I learned that these are the two mainstream version of Content Management System dominating in the world. I realized that Joomla is a new player, which is doing comparatively well than others in evolving. Besides, I have researched that Joomla is perfect for built websites of these kinds as Wordpress is good for blogging and requires too many plugins to meet the need of a service website.
So I decided to build my website on Joomla. Now here comes the problem, I do not know how even to code a single line, it looks gibberish, and I do not have the time to learn about coding. I tried several Free Joomla Templates, but none of them aided to my purpose as such templates require severe customization and I was not up to the task.
Joomla Templates
Than I went looking for premium Joomla templates, one that I can buy and one that will have all the features ready for my editing. I have realized that there is a thing called Page Builders, and if you have a good one then you can simply build the website with ease.
I started looking for templates which have page builder installed, and I found two promising page builder online for Joomla.
SP page builder from JoomShaper and
Quix page builder from ThemeXpert.
I tried both of them before I finally decided to go with Quix.
Ask me why, because of Quix amazingly user-friendly, its colorful and attractive, truly responsive, drag and drop feature at its max.
Plus, they have a Joomla template for law firm which is a no-brainer to pick.
Also, Quix comes with lots of pre-designed blocks and pages which makes the whole aspect of building the website easier to get started with! By few clicks, my page is ready to edit.
Quix has built in SEO feature; that helps our site to get found on Google quickly. Besides you can set meta data and meta description in it. Also, Quix base pages are indexed by Joomla native search.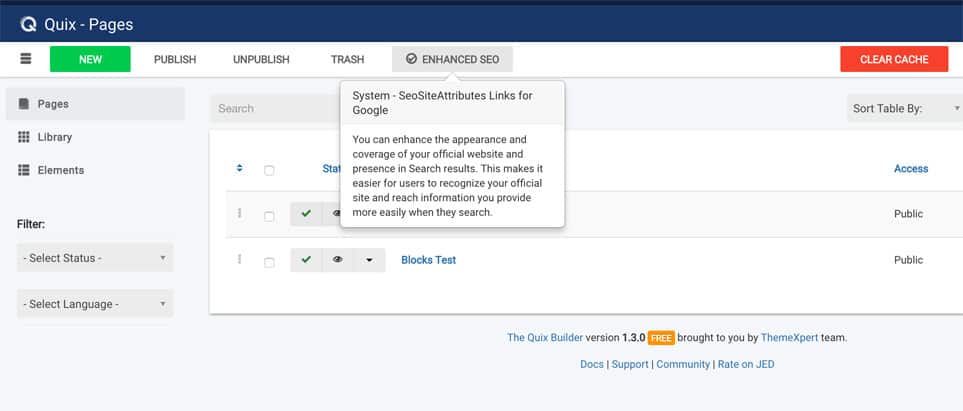 As I bought the template alone with Quix, I did not have to install Quix separately. However, I learned all that is required is to follow the following pathway: Extention > Manage > Install > Upload (Quix Zip File downloaded from Themexpert.com)- Click Install.
Boom.. Quix is ready with a new menu on the top right of the Joomla platform.
Once you click on the Quix, you will be directed to the Quix building page, from where all that you will be required to do is to create new pages, in the newly created page select your designated columns & rows. You can also adjust those columns flexibly with the drag and drop features as to your preferences.
After you are done with Columns and Rows, start putting elements in it.
What is element? The word element used in Quix is no different from modules in Joomla, or plugins in Wordpress. For example, the complex; nice slider which shows on your website is just an element inside Quix, besides its easily replaceable or editable with various styles.
At first, I drafted my site on a paper page; amazing and also true that I have succeeded to insert everything that I have wanted for my Website. You can have a look, click here.
Thanks to Quix and its enhanced SEO friendly features, our firm experiencing a drastic increase in the yearly revenue, and it seems like with every update its just getting better and better like the Chinese WeChat, hahaha.
Download Quix Free Visit FM Associates Website
Do you have a story to share? We'd love to publish your story on our blog. Contact with us and submit your story.