There are many strategies and techniques you have to develop when it comes to business and marketing. The online e-commerce business is not different but much more prominent if you judge it from the level of adapting tricks because it is vast and ever-growing. You have to stand out of the crowd with unique styles if you want to survive in this cruel competitive place. To help you, researchers and experts are working constantly to develop new and more active strategy. A/B testing is another term has been included in this list not so long ago but its success rate for promoting business sites is undeniable in this short time. May be it is not much heard-term like SEO but A/B testing is being implemented by the leading companies and skillful marketers with a gorgeous result and now the small business websites are also trying for this.
What is A/B testing?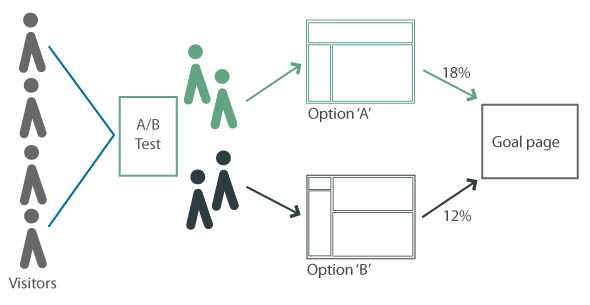 Well, the definition is simple. A/B testing is running a comparison among some test samples for measuring the response rate for each sample according to a metric and then later using the one which has more success in the real world. The concept is fairly is. You just think about the sign-up form position or the number of queries in the form or moving the ad banner to a different position or change the dialogues of "buy now", "follow me", "thank you" etc. or even changing the full theme of your site. The method is to direct visitors to different samples using A/B testing tools and after a reasonable time compare the result and choose the one for promoting your business which is the winner. Amazon, Google, Microsoft, BBC, eBay are some of the companies using A/B testing.
Is that really important?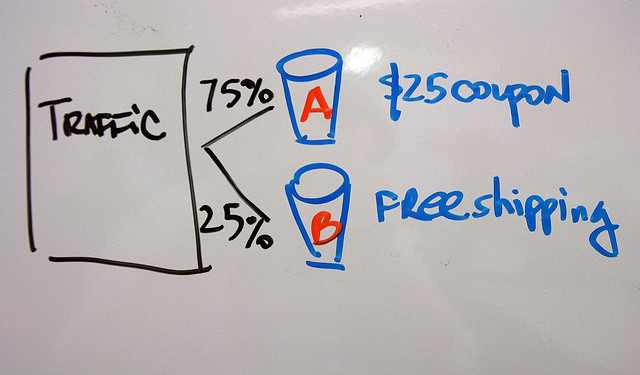 Research shows only changing an icon to a human photograph increases the click rate immensely. Moving the position of a single element changes the traffic behavior in a dramatic way. Taking a new color, using a different word, display of the contents etc. are valuable elements to run an experiment on. There is no way where without a legal proof you can say that one strategy will be the best or it will fail completely. Though no A/B testings are the same but the elements tested are somewhat match. A list is given below on the terms worth testing:
Layout and style of website
Product tagline and description
The call to action's (i.e. the button's) wording, size, color and placement
Form's length and types of queries
Product pricing and promotional offers
Images on landing and product pages
Amount of text on the page
From where should I start?
In order to start testing, first you have to select the element you want to test. Next you should select a tool.  A/B testing can be set up in one of the two ways. One is replacing the element before the page loads and another is redirect to another page. First one is like testing a variety of heading or buttons powered by HTML or CSS codes. Second one directs to texting the whole format. The tool will redirect visitor to different samples under consideration. A lot of tools are available online. The core-test is somewhat similar in all of the tools. But the features offered and the complexities of using the tool differentiate one from another.
Here is the list below of some A/B testing tools:
Google Website Optimizer: Google provides a free website testing and optimization tool, Website Optimizer. It offers the marketers to test different headlines, images, text or design alternatives provided to it using its web interface. Then the tool will show the alternatives' conversion result and also its intuitive reports will help the marketers to choose the best combination.
Visual Website Optimizer: It claims to be the easiest website optimizing tool. Visual Website Optimizer offers "point-and-click test designer" and "WYSIWYG Editor" to create variations. It also provides "tag-less integrator" that reduces the time of testing and dependency on web development and IT. It is a flexible multivariate testing program which can cover any rate of conversion process.
Optimizely: Optimizely is not free but it is worth paying for. It has specialized itself to create an experiment in minute by using its easy-to-use visual interface. Simply create a website and use the offers Optimizely is providing to find out the right choice.
Vertster: Vertstrer is another optimizing tool. It uses a fast algorithm and eases the whole process of testing to achieve the right result. It needs no page tagging or DNS changing. A/B and multivariate Taguchi testing pack in one package is available only at Vertster.
OfferMaxima: OfferMaxima calls it optimizing rather than testing. It offers more robust A/B testing, finds out interrelationship between variables, requires minimal traffic response to get a trustworthy result, reduces the likelihood of "false positive" and many more. E-commerce sites, leading generation sites, campaign sites can be benefitted by this cool tool.
SplitAnalyzer: SplitAnalyzer is a scientific testing tool for achieving a great sample testing result. Its test result is constant for the same user all the time. After buying the product, the service is unlimited. Connecting via the FTP server to the database will do the magic. SplitAnalyzer is strong enough to handle millions of hits per month.
Technology is advancing day by day. We cannot but accept the changes and follow the trends. May be a change of the color, replacing an image or simply reducing a mouse-click can multiply the number of hits you are receiving. So give it a try and find out the result scientifically through A/B testing tools and increase the profit of your website.